Boni Snow Whitening Skin containing pearl powder
Boni Snow Whitening Skin has an advanced formula containing pearl powder and 8 skin-whitening active ingredients with a giant probiotic system. The product helps to improve digestion, detoxify the skin, and help whiten essences to be absorbed in the most complete way so that your skin is white and smooth.
Origin: Made in Canada under the Botania trademarks.
Package: one box contains 30 capsules, please see the shipping instruction
Expiration: new product, 24 months from the date of manufacturing
Ingredients: L- Glutathione: 250mg; L- Arginine: 50mg; N- Acetyl- Cysterine: 50mg; Hyluronic Acid: 50mg; Collagen peptide (fish): 200mg; Ngọc trai: 30mg; Aloe Vera Ext 20:1: 15mg; Vitamin C: 100mg; Acid Alpha Lipoic: 25mg; Lactobacillus Casei: 5BU.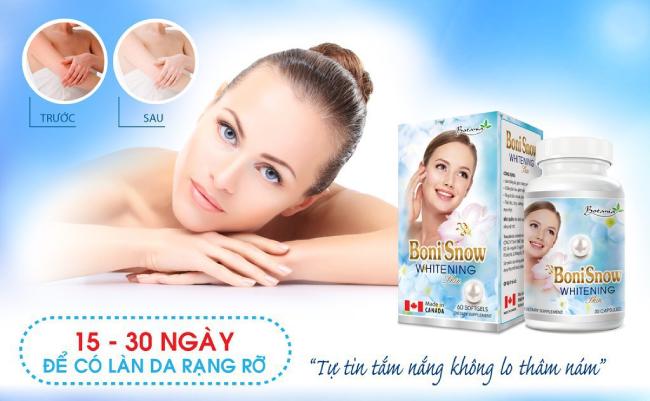 Uses of Boni Snow
Support skin lightening, and reduce pigmentation, and freckles. Anti-aging, reduce wrinkles. Increase skin moisture, skin smooth, radiant. Detoxifies enhances liver function, and reduces pimples.
How to use: Take 1-2 capsules twice daily. Use for all ages from 15.
Storage: Keep in a dry, cool place. Protect from light and high temperatures over 30 Celcius
Shipping:

 Europe: 10-21 days
United States, Canada, America: 15-30 days
Asia, Australia, New Zealand: 12-25 days
Frequently bought together