Calcium Turmeric Latte Honimore 16g x 10 bags
Calcium Turmeric Latte is an instant turmeric powder. It has the effect of supporting the healing of stomach and duodenal ulcers, beautifying the skin, and reducing freckles, melasma, dark spots. At the same time, the product also supplements nutrition for patients, and postpartum women, and supports the health of people who are and after chemotherapy and radiotherapy, reducing the risk of osteoporosis.
Origin: Made in Vietnam by Honimore
Packing: 288 grams net weight
Exp: new product, 24 months from the date of manufacturing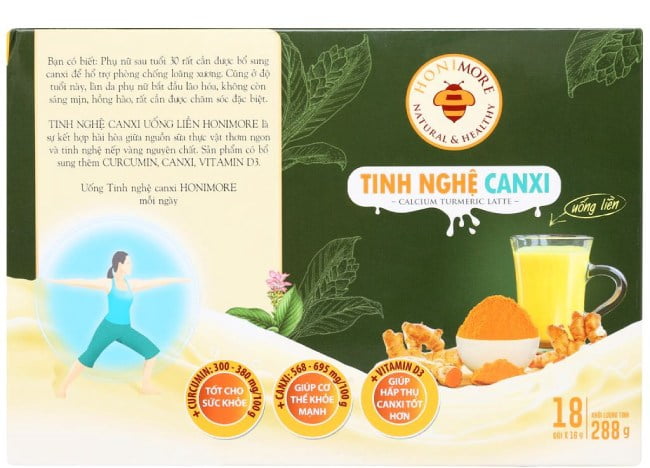 Ingredients of the product
Calcium Turmeric Latte contains golden turmeric, and plant milk from palm fruit. In 100g of the product, there is 24.5g yellow glutinous turmeric, 1.7g calcium carbonate, 0.35g curcumin, vitamin D3, vegetable cream powder, sugar, and an anti-caking agent (E551).
Usage and dosage: Mix each sachet with 70 ml of hot water at 70 degrees Celsius, stir and enjoy. Drink 2 to 4 packs a day. Use for children over 6 years old and adults
Shipping: Europe: 10-21 days
United States, Canada, America: 15-30 days
Asia, Australia, and New Zealand: 12-25 days