Dabo Vera boosting ampoule cream for 24 hours of use.
Dabo Vera boosting ampoule cream helps to provide intensive moisture, keeping skin hydrated for 24 hours. The cream helps to thoroughly overcome the problem of dry or flaky skin, restore and regenerate the skin, tighten pores, even skin tone.
In addition, it also works to soothe sensitive skin types and has anti-inflammatory properties that help antibacterial, prevents acne, fade pigmentation spots on the skin, help improve bright, white skin rosy after 4 weeks of use.
Expiry: new product, 03 years from manufacturing date
Packing: 1 box contains 50 ml net weight
Made in Korea by Dabo Cosmetic
Ingredients of Dabo Vera ampoule cream
Ampoule Aloe Barbadensis Leaf Extract 10,000 ppm is concentrated with 09 natural herbs and Glycerin to help moisturize and restore skin, anti-inflammatory, and antibacterial. In addition, the cream also has Niacinamide ingredients along with herbs: fade pigmentation, anti-aging, and whitening.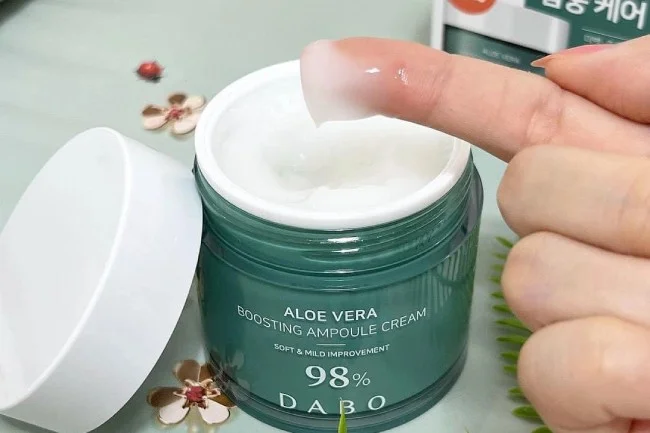 How to use the product?
Clean your face with makeup remover.
Balance skin pH with toner
Moisturize your skin with a serum.
Take an appropriate amount of Dabo ampoule cream, apply it evenly to the face, and pat gently for deeper absorption.
Continue with other skincare steps.
Other related information
Shipping: Europe: 10-21 days
United States, Canada, America: 15-30 days
Asia, Australia, and New Zealand: 12-25 days
Avoid storing the product in direct sunlight. Protect the product from excessive moisture.