DABO VITA Tone up cream 3D 50ml 
DABO VITA Tone up cream 3D is one of the intensive skin care products containing Tranexamic Acid and Platinum Complex (Platinum, Vitamin E, C) that inhibit the formation of melanin pigments, fade dark spots, brown spots, dark spots, anti-oxidant and even skin tone.
Expiry: new product, 03 years from manufacturing date
Packing: 1 box contains 50 ml net weight
Made in Korea by Dabo Cosmetic
Ingredients of the product
Butylene Glycol: helps hydrate, moisturize the skin, condition, and improve skin texture.
Pearl powder and Niacinamide: help improve product texture, moisturize skin, promote skin recovery, stimulate skin cells to work and grow, and create a skin barrier.
9 kinds of vitamins, fatty acids, glycerin…: necessary for your skin, helping to take care of all skin problems, reducing skin sensitivity, and providing moisture for smooth and fresh skin. It also helps to reduce dryness, and increase your skin's elasticity and firmness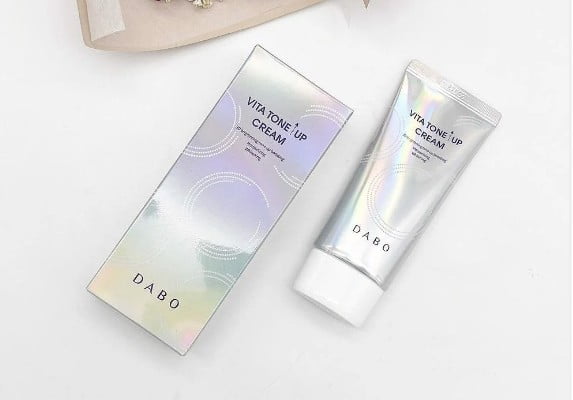 How to use the product?
After performing cleansing and soothing steps, take an appropriate amount of DABO VITA Tone up 3D, and apply it gently and evenly on the skin. Massage gently for fast absorption into the skin.
Other related information
Shipping: Europe: 10-21 days
United States, Canada, America: 15-30 days
Asia, Australia, and New Zealand: 12-25 days
Avoid storing the product in direct sunlight. Protect the product from excessive moisture.