Kin Baby Teething Gel 30g helps to relieve pain of teething
Kin Baby Teething Gel 30g with extract of Chamomile flower and extract of Salvia Officinail flower, helps teething pain relieve pain, and protects gums from damage. In addition, the product also helps to treat mouth ulcers, gingivitis, blisters, hand foot and mouth herpes in adults.
Ingredients: Chamomile Flower Extract and Salvia Officinail Flower Extract 2%, Provitamin B5 (D-Panthenol) 1%
Expiry: new product, 02 years from manufacturing date
Packing: 1 tube contains 30 grams net weight
Made in Spain by Kin Pharma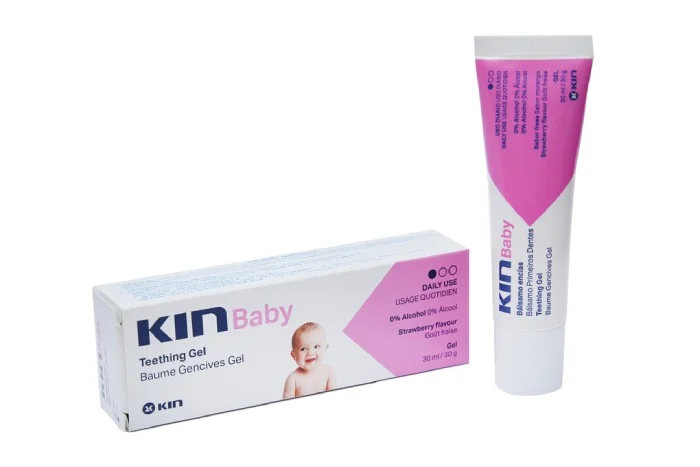 Instructions for use of the product
Apply a small amount to clean hands. Apply evenly on the affected mucosa, spread around, leave on for 10 minutes. The drug adheres well, dissolves quickly in saliva, is absorbed through the mucous membranes and relieves pain quickly. Baby can eat and drink after 15 – 30 minutes when applying the gel.
Note that this product is not a medicine and is not meant to be a substitute for medicine. Read the instructions carefully before use.
Other product information
Shipping: Europe: 10-21 days
United States, Canada, America: 15-30 days
Asia, Australia, New Zealand: 12-25 days
Frequently bought together