New Da Huong Feminine Hygiene with Lavender, Aloe Vera Extract
New Da Huong Feminine Hygiene is a botanical solution that is used for a woman to wash and take care of her vulva (private part). Da Huong has been researched and formulated by the professional advice of gynecological doctors and pharmacists specialized in drug preparation.
By combining natural ingredients, Da Huong is a safe Feminine Hygiene solution, suitable to the private part's physiology. It has no dry or burning sensation and has no influence on the vulva's physiological pH. Da Huong is present as a convenient solution, need not dilute before use.
Origin: Made in Vietnam by Hoa Linh Pharma
Package: As a gel form, packaged in plastic bottles of 100ml
Expiry date: new product, 02 years from manufacturing date
Ingredients: Lavender Perfume, Sodium chloride (NaCl) 0.9%; Aloe vera 0.01%; Peppermint oil 0.085%; Thyme oil (mainly contains thymol) 0.005%; Lactic Acid 0.05%; Vitamin E 0.01%; Flavouring and other ingredients enough for 100ml.
Uses of New Da Huong Feminine Hygiene
Da Huong uses for gently cleaning, getting rid of bad smells, and protecting the vulva (private part). It also prevents microbe and germs, brings self-confidence to the woman by charming perfume.
– Wash the private part daily or during the periods of menstruation, pregnancy, and postnatal time.
– Clean the external sexual organs for both man and woman before and after sexual intercourse.
– Support and improve the gynecological inflammation and infection such as Inflammation of the vagina and vulva, itch in the vulva, leucorrhoea…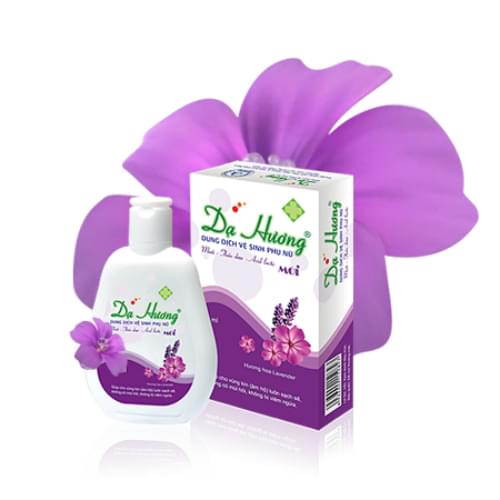 How To Use New Da Huong Feminine Hygiene?
– To wet the private part, put 2-3 ml of Da Huong solution into the palm of the hand, rub gently into the private part for 1 minute then wash carefully again with clean water.
– Women should use Da Huong solution daily, especially during periods of menstruation and postnatal time.
– During the menstrual period, wash the vulva 2-4 times daily based on the volume of blood that gets out of the body.
Storage: In the airy and cool place.
Caution: This product is used only for the external wash, not for vaginal douche or taken orally.
Shipping: Europe: 10-21 days
United States, Canada, America: 15-30 days
Asia, Australia, New Zealand: 12-25 days
You may like