OB Sea Oysters extracted from natural sea oysters
OB Sea Oysters extracted from 100% Vietnam Sea Oysters help to supplement zinc and essential nutrients to enhance male physiology, increase libido in men, increase sperm quality, and slow down male menopause.
Erectile dysfunction is a painful problem that every man is afraid to encounter. The main cause is a decrease in the male hormone testosterone in the body.
To improve it, first of all, it is necessary to increase the production of endogenous testosterone, slow down male menopause, and increase physiological function.
Origin: Made in Vietnam by PHIL INTER PHARMA
Packing: Box of 30 capsules
EXP: 02 years from the manufacturing date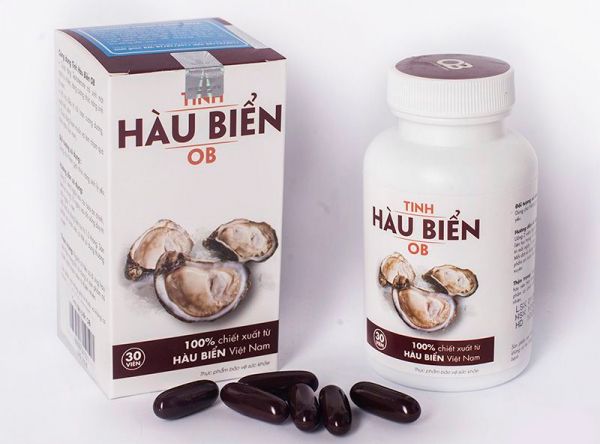 Ingredients of OB Sea Oysters
Oysters: Because they contain a lot of carbohydrates, protein, and a small amount of fat, and contain vitamins A, B1, B2, B3, C, D… Oysters also contain a lot of minerals necessary for the body, including zinc, magnesium, iron, magnesium, calcium, copper, phosphorus, iodine, potassium, sodium…
Zinc Oxide: The best part is that zinc is essential for the production of testosterone. And oysters are the foods that contain the most zinc. Oysters have long been likened to "food of love", having positive effects on male physiology, and improving male diseases such as infertility and weak sperm. Besides, zinc is also very necessary to create semen, improve sperm quality, help sperms get stronger because, after each ejaculation, the male body loses a lot of zinc. If the body is often in a zinc deficiency, it can lead to decreased libido, weak sperm, infertility, and impotence in men.
Vitamin E: It has a high antioxidant capacity, helps protect male reproductive cells, and increases the quality and quantity of healthy sperm. Vitamin E helps regulate the activity of the gonads as well as prolong the life of sperm and egg cells. In particular, the combination of an adequate supply of vitamins E and A also works to improve blood circulation in the sexual organs and accelerate the production and development of sperm.
Sea Oyster OB with 3 unique effects
It increases endogenous testosterone naturally and helps enhance male physiological function. Therefore, it increases sperm quality, sperm faster, and stronger. This product also helps fertility, increases libido, and slows down male menopause.
Support the treatment of erectile dysfunction, improve the condition of premature ejaculation: and prolong the love as desired.
How to use this product?
Take 2 capsules per day after main meals. Continuously for 10 days. Then take 1 capsule per day. Each course takes from 1 to 3 months. The product is safe and can be used regularly.
Storage: Store in a dry place, not over 30 degrees Celsius, and protect from light.
Shipping: Europe: 10-21 days
United States, Canada, America: 15-30 days
Asia, Australia, and New Zealand: 12-25 days