Bepanthen Balm cream to prevent diaper rash and skin irritation.
Bepanthen Balm Cream forms a water-repellent film that protects the baby's sensitive skin from irritants, helping to prevent diaper rash. In addition, the product is also used to care for mothers' nipples that are cracked due to breastfeeding.
Origin: Made in Greece by Bayer
EXP: a new product / 2 years from the manufacturing date
Package: Bottle of 30 grams
Ingredients of the product
Water, Lanolin, Paraffin, Liquidum, petrolatum, panthenol, Prunus Amygdalus Dulcis Oil, Paraffinum Liquidum, petrolatum, ozokerite, glycerin oleate, lanolin alcohol, Cera alba, cetyl alcohol, stearyl alcohol.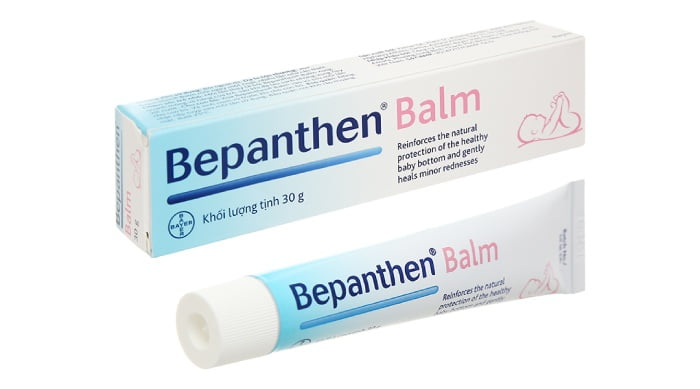 The main use of the product
Cares for and gently heals red diaper rash caused by diaper rash.

Moisturises baby's sensitive skin at the swaddling site.

Used to care for the nipples of mothers that are chapped due to breastfeeding.
How to use Bepanthen Balm cream?
Topical application: Damaged skin: Rub Bepanthen Balm 1 or more times daily as needed.
Baby Care: At each diaper change, apply Bepanthen Balm around your baby's bottom and groin, after wiping these areas with water.
Nipple Care: Rub Bepanthen Balm into the breast after each feeding. Clean nipples before breastfeeding.
Other product information
This product is not a medicine, it is not a substitute for medicine. Do not use it for people who are sensitive to any of the ingredients in the product. Consult your doctor before using it for pregnant or breastfeeding women.
Store in a cool, dry place, away from direct sunlight.
Products may be subject to import tax depending on the laws of each country, we are not responsible for this tax
Shipping: Europe: 10-21 days
United States, Canada, America: 15-30 days
Asia, Australia, and New Zealand: 12-25 days
Frequently bought together