Crila Forte Thien Duoc reduces prostate enlargement
Crila Forte Thien Duoc 50mg reduces prostate enlargement. It is the upgraded product of Crila Crinum latifolium. It has the function to reduce benign prostatic hypertrophy,  relieve the symptoms such as difficulty urinating, and frequent urination at night, support to reduce uterine fibroids.
Packing: 1 box x 20 capsules x 500mg
Origin: Made in Vietnam by Thien Duoc Pharma
Expiry: 02 years from manufacturing date
The composition for one tablet
Crinum Latifolium L. Dried extract of Crinum Latifolium L. 500mg, equivalent to 2.5mg total alkaloids. Excipients: Starch, Aerosil, Sodium starch glycolate, Talc, Magnesium stearate…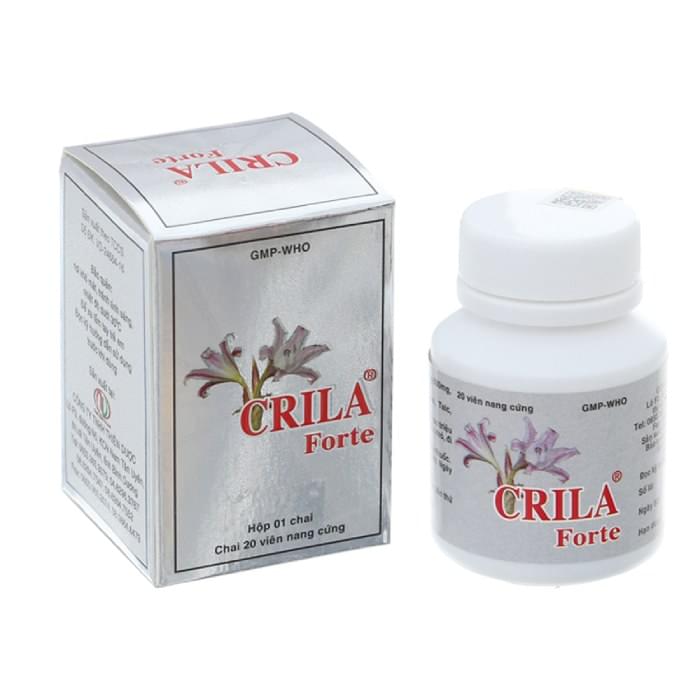 How to use Crila Forte?
Support to reduce benign prostatic hypertrophy: take 2 times a day, 2 tablets per each time, after meals. The usual dose is 8 weeks. If needed, use another batch.
Support to reduce uterine fibroids: 2 times a day, the first time 3 tablets, the second time 2 tablets, after meals. The usual dose is 9 weeks. If needed, use another batch.
Undesirable effects: Slight dizziness and indigestion may occur for some days
Other related information
Shipping: Europe: 10-25 days
United States, Canada, America: 15-30 days
Asia, Australia, and New Zealand: 12-25 days
Storage: Keep in a dry, cool place. Protect from light and high temperatures over 30 Celcius
You might also like