Extra Deep Heat Mentholatum Gel For Minor Pain Relief
Extra Deep Heat Mentholatum gel is a non-greasy pain-relieving cream to be applied to the skin. It helps stimulate circulation, relax stiffness, and relieve minor pain. 
Its counterirritant action makes it effective in relieving of muscular pains and stiffness including rheumatic pain, backache, fibrositis, lumbago, and sciatica. It can also be used for the relieving of chilblains, bruises, and sprains and is suitable for minor sports injuries.
Origin: Made in Vietnam by Rohto Mentholatum
Expiration: 02 years from the manufacturing date, new product
Packing: 01 Tube x 30 grams Net Weight
Indication: Rheumatism, Arthritis, Fibrositis, Back pain, Muscle pain, Joint pain, Stiff shoulders, Muscular fatigue, Spains
Direction: Apply a sufficient amount of Deep Heat gel into the painful area. Massage gently until completely absorbed by the skin. Repeat 2 or 3 times daily as necessary.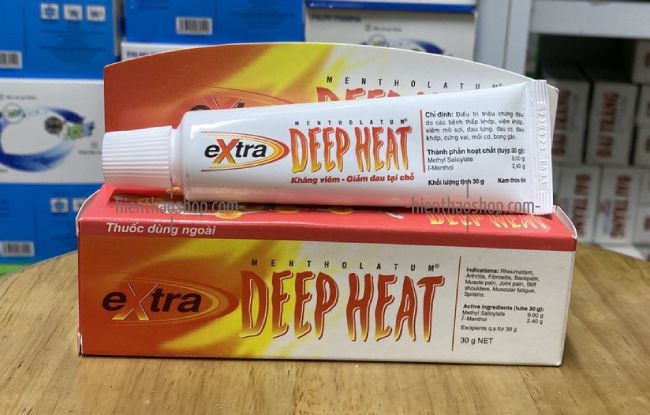 Instruction of Extra Deep Heat 
Use for external only. Keep out of reach of children. Read the instruction of Extra Deep Heat Mentholatum carefully before use
Ingredients (tube 30g): Methyl Salicylate 9.00g, Menthol 2.40g
Shipping Cost Optimization: Gross weight 55 grams/ box. Recommend to buy 01 box, 04 boxes, 09 boxes…
Shipping: Europe: 10-21 days
United States, Canada, America: 15-30 days
Asia, Australia, New Zealand: 12-25 days