Red Starbalm Novum 25g helps muscles relax after exercise
Red Starbalm Novum 25g is extracted from natural herbs that are benign, and safe for the skin. The product has a pleasant scent, high warmth, so it is suitable for massage on sore skin caused by exercise. This type of product has the ability to stick on the skin for a long time, helping to support a deeper and better massage effect, and the ability to keep warm is also longer.
Expiry: new product, 02 years from manufacturing date
Packing: 1 box contains 25 grams net weight
Made in the China by Novum Pharma B.V
Ingredients: Menthol, Dementholised Mint Oil, Eucalyptus Oil, Clove Oil, Cassia Oil, Pine Tree Oil, Methyl Nicotinate, Montan Wax, Bees Wax, Ceresin Wax, Vaselin.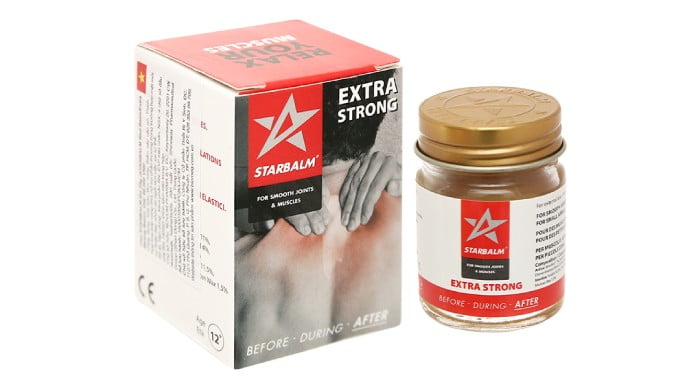 Instructions for use of the product
Apply to the affected area with massaging motions. Note for external use only and apply evenly on the skin. The product may cause allergic reactions in some people with sensitive skin. Test on a small area before use.
Do not use the product in case of sensitive skin. Discontinue use immediately if skin irritation or allergic reaction occurs. If symptoms persist, consult a doctor. Do not cover the skin after using the product.
Do not use around eyes, mucous membranes, wounds, or sensitive or irritated skin. The product is not recommended for use by children under 12 years of age. Keep out of reach of CHILDREN.
Other product information
Shipping: Europe: 10-21 days
United States, Canada, America: 15-30 days
Asia, Australia, and New Zealand: 12-25 days
Frequently bought together