Turmeric Cream Thai Duong Tay Thi Anti Scar anti-aging
Turmeric Cream Thai Duong Tay Thi is made from fresh turmeric and other natural ingredients. Turmeric has been used from time immemorial to prevent scars, making the skin shinier and more beautiful. Freshly pressed turmeric extract can be used to apply on the whole body of the down who has just given birth to a child to close down the pores of the skin and avoid win-cold pathogens, recover shiny skin, prevent chloasma
Origin: Made In Vietnam by Thai Duong Pharma

EXP: new product, 24 months from the date of manufacturing
Packing: 01 tube x 20 grams. Gross weight 48 grams/ box.
Ingredients: Curcuma longa extract, Vitamin E, Vitamin B2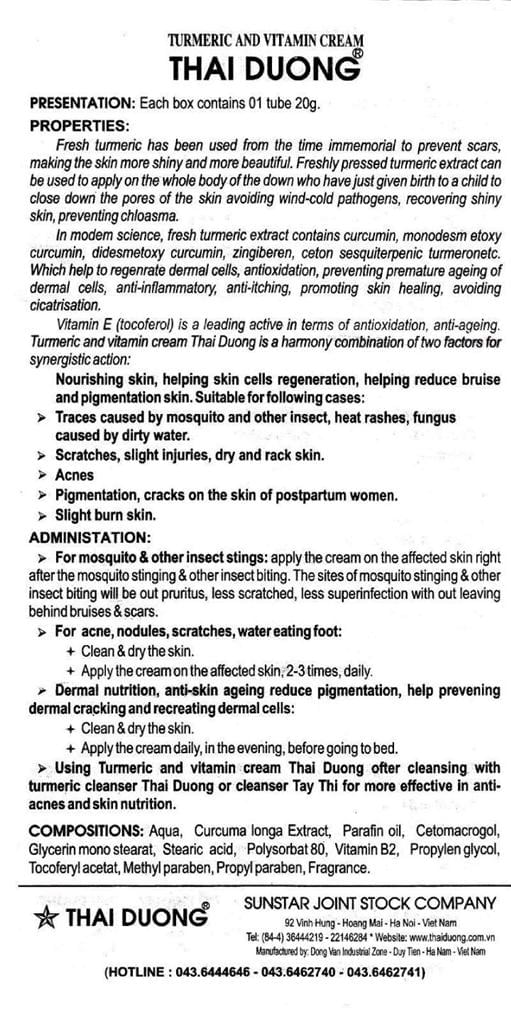 Indication: Nourishes skin, regenerates skin cells, and helps prevent bruise and pigmentation.
This cream is used in cases:  Mosquito and insect bites, heat rash and athlete's foot, Scratches, minor injuries, dry and cracked skin, Acne and scars, anti Pigmentation, and cracked skin of women after giving birth
How to use this product?
Apply the cream to the skin and massage gently. Use 2-3 times each day. Apply in the evening, before going to bed
Shipping: Europe: 10-25 days
United States, Canada, America: 15-30 days
Asia, Australia, New Zealand: 12-25 days
Frequently bought together