Thai Duong Herbal Toothpaste 100 grams
Thai Duong Herbal Toothpaste contains ingredients from natural herbs that whiten teeth, remove plaque and bacteria without causing tooth erosion like other kinds of toothpaste. In addition, the product also helps support the treatment of bad breath and anti-gingivitis.
The product also helps to increase blood circulation around the roots: support receding gums, prevent root bleeding, for strong teeth.
Origin: Made in Vietnam by Thai Duong Pharma
Package: 100 grams Net Weight
Expiration: in late 2021 or later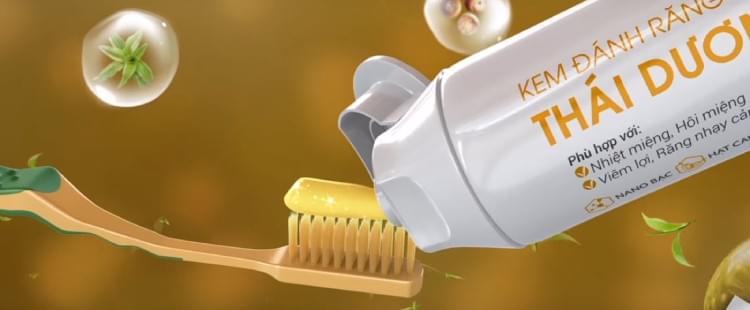 Ingredient of Thai Duong Toothpaste
Disodium Cocoyl Glutamate, Hydrated Silica, Aqua, Sorbitol, Glycerin, Propylene Glycol, PEG – 12, Menthol, Aspartame, Cellulose Gum, Mentha Arvensis (Cornmint) Oil, Folium Callisiae fragrant, Cinnamomum Cassia, Menthyl Lactate, Nano Silver, Semen areca (Betel Nut)
Indication: Clean plaque and yellow stains on teeth, keep teeth always bright white naturally without causing tooth wear.
Limit inflammation of teeth, gums, aphthous stomatitis. Keep the long-lasting cool breath.
Enhances the circulation of the blood in the gums, prevent receding gums bleeding.
Especially effective for cases of gingivitis, stomatitis, bad breath, and sensitive teeth
How to use: Use a sufficient amount of cream to clean the teeth. You should use toothpaste after every meal or at least 2 times in the morning and evening.
Shipping: Europe: 10-21 days
United States, Canada, America: 15-30 days
Asia, Australia, New Zealand: 12-25 days