Bach Xa balm reduce joint pain, osteoarthritis, shoulder pain, spine pain
Bach Xa balm is used for joint pain, osteoarthritis, shoulder pain, spine pain. It also relieves arthritis, rheumatism, osteoarthritis, limb pain, back pain, shoulder pain, and spine pain. In addition, this balm also reduces muscle aches, bruises, and sprains caused by work or sports.
Origin: Made in Vietnam by Nam Duoc pharma
Content: A box contains 20 grams net weight.
EXP: 02 years from manufacturing date
Ingredients of Bach Xa balm
Methyl salicylate (Methylis salicylates) 4.0g, Menthol 1.2g, Camphor (Camphora) 3.5g, Cinnamon essential oil (Oleum Cinnamom) 0.5g, Menthol (Oleum Menthae Arvensis) essential oil 2.2g, Dried Cobra Venom (Venom Naja Naja) 0.1mg.
Excipients Vaseline, paraffin, nipagin, Nipasol just enough 20g.
Dosage and how to use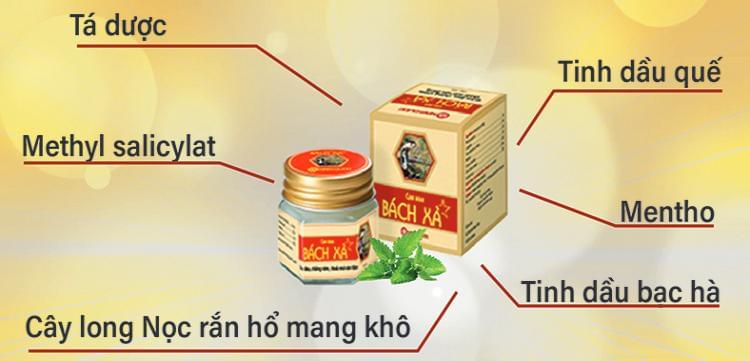 Use this balm to massage 2-3 times/day, clean the skin before applying. Use an amount of cream about 0.1mm thick, cover the entire painful swollen joint, then rub and massage gently (1-2 minutes) until the cream is fully absorbed into the skin. Do not use it over 10-14 days without the medical advice
Contraindications
People who are sensitive to the ingredients of the balm. Do not use it for children under 6 years old, pregnant and lactating women. Do not apply to eye mucosa, open wounds.
Other product information
Storage: Store in a dry place, below 30°C, away from direct light
Shipping: Europe: 10-21 days
United States, Canada, America: 15-30 days
Asia, Australia, New Zealand: 12-25 days
Frequently bought together products