Cobra Snake Venom Medicated Balm Hong Linh Cot Tiny Tin 10 Grams
Cobra Snake Venom Medicated Balm Hong Linh Cot has just released the new design in the smaller tin 10 grams which is easier to carry out. This product is very effective to relieve the minor pains and anti-inflammation 
Origin: Made in Vietnam by Kim Long Pharma
Packing: 01 Tin 10 grams net weight, shipping weight 45 grams/ box
Expiry: 2021 or later / 02 years from the manufacturing date
Hong Linh Cot Cobra Snake Venom is effective rheumatism, arthralgia, arthritis, muscle inflammation, aches and pains relief in muscles, sprain, tumble ecchymosis, sciatica, and tiredness and numbness in the back, the shoulder, and the nape.
Composition:
4.00g Methyl salicylate
3.18g Camphor
2.18g Peppermint essential oil
1.60g Menthol
0.10g dry venom of cobra
q.s.f. 20g Vaseline, lanolin, paraffin
Dosage: Massage the skin in the painful area, 3-4 times daily.
Dry and clean the skin before applying. Massage carefully so as to obtain the maximum efficiency of the medicine.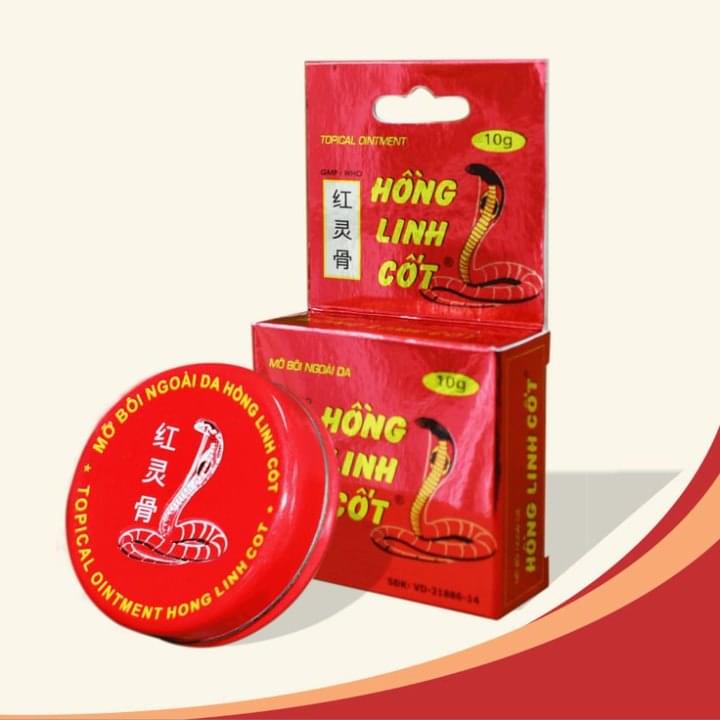 Hong Linh Cot 
Medicated Balm 
10 grams Contraindications
Patients with hypersensitivity to any ingredient of the medicine. Children under 6 years. A pregnant woman and lactating woman. Do not rub the medicine on the eyes, sensitive skin area, opened injury.
Storage: Keep in a dry, cool place.
Shipping: Europe: 10-21 days
United States, Canada, America: 15-30 days
Asia, Australia, New Zealand: 12-25 days