Ginseng Alipas Ecogreen with Eurycoma Longifolia and Oyster meat extract
Ginseng Alipas Ecogreen or Alipas Men's Ginseng helps to enhance physiological health: improves erectile dysfunction, improves male infertility due to weak sperm, and improves male menopause syndrome.
In addition, the product also helps to increase endogenous testosterone, improve physical condition, enhance muscle strength, fight fatigue, and reduce cardiovascular risk.
Expiry: new product, 02 years from manufacturing date
Packing: 01 bottle contains 30 Capsules
Origin: Made in the USA by St. Paul Pharma under Ecogreen trademark
Ingredients of Alipas Ginseng
Alipas Men's Ginseng contains Eurycoma Longifolia 240mg, Oyster meat 150mg, Tribulus terrestris extract 100mg, L-Arginine HCL 100mg, Butea superba extract 80mg, Homy goat weed extract 50mg, Ginkgo leaf 40mg, Pine bark 40mg, Zinc picolinate 30mg.
Other excipients: Gelatin, Corn starch & Magnesium Stearate q,s 1 capsule.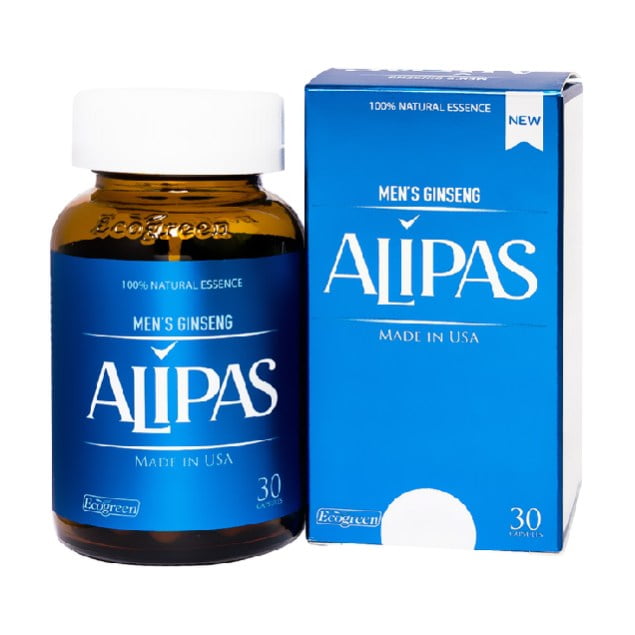 Usage and dosage of the product
The target audience is men 18 years of age and older. Take 1 capsule a day before or with a meal. Able to take 1 tablet x 2 times per day in case of need. The product should be used regularly.
Note: This food is not a medicine, not a substitute for medicine. Do not use it for people who are sensitive to the main ingredients of the product, bleeding patients. Keep out of reach of CHILDREN.
Shipping: Europe: 10-21 days.
United States, Canada, America: 15-30 days
Asia, Australia, and New Zealand: 12-25 days