Amway Iron Folic Nutrilite Prevent Anemia
Amway Iron Folic Nutrilite is the product of Amway Vietnam factory which is formulated with a blend of three types of iron that can be more readily absorbed, tolerated and therefore used by your body and prove beneficial to those requiring additional iron – regardless of life stage. Helps keep you healthy.
People in different life stages have different iron needs and iron absorption abilities. Therefore, you should need to prevent the lack of Iron supplements.
Origin: Made in Vietnam by

Amway

Packing: 01 box x 120 Tablets, shipping weight 140 grams
Expiration: new product, 24 months from the date of manufacturing
Approximate composition per serving
Energy: 2.05 Kcal
Protein: 0.04 g
Carbohydrate: 0.45 g
Fat: 0.01 g
Vitamin C ( from Acerola Cherry concentrate): 30 mg
Folic acid: 226 mcg
Iron (from ferrous bisglycinate, ferrous fumarate, mustard greens: 10 mg
Spinach dehydrate ( Spinacia oleraccea) ( Leaf, stem): 35 mg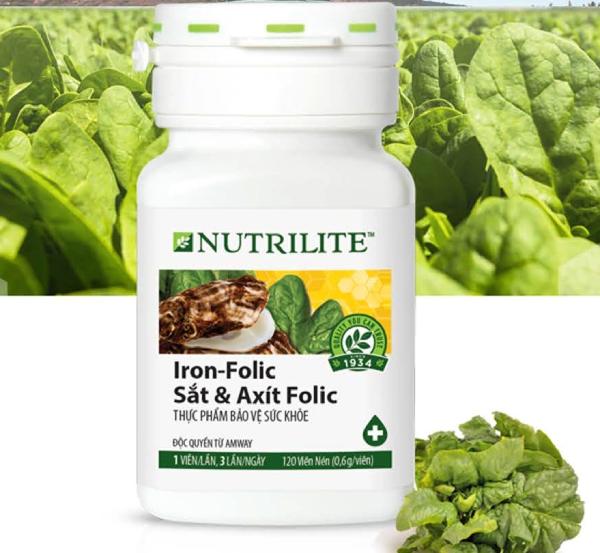 Amway Iron-Folic Nutrilite Benefit 
– Provides 10mg iron, 226 mcg folate per serving.
– Formulated with three unique sources of iron – ferrous bisglycinate, ferrous fumarate, and mustard greens. Iron sources are more readily used and tolerated by the body.
– Provides Vitamin C which helps increase iron absorption ability.
– Provides folic acid, and helps maintain homocysteine that is already within the normal range.
– Added benefits of phytonutrient from exclusive NUTRILITE acerola cherry concentrate.
Warning: Children under 12 years of age, pregnant or lactating women or anyone with a medical condition should consult their physician before using this product.
Usage: Take 01-02 tablets per day, preferably after a meal.
Shipping: Europe: 10-21 days
United States, Canada, America: 15-30 days
Asia, Australia, New Zealand: 12-25 days
Frequently bought together