Artichoke herbal tea Ladophar box of 100 bags 2 grams
Artichoke herbal tea Ladophar is a combination of many different herbs, 100% natural without using harmful chemicals, used to help strengthen liver function, increase bile secretion, diuretic, and enhance digestive function.
The liver is a part of the body that plays a major role in detoxifying the body and beautifying the skin. With Lado Herbal herbal artichoke tea, you can make yourself a cup of cool water easily. The product is a delicate combination of artichokes, which have a cooling effect on the liver, and precious herbs such as herbal remedies, ginseng, and artichokes.
This tea has a slight natural sweetness of stevia. It has the effect of supporting liver function, increasing bile secretion, and diuretic, enhancing digestive function. The product has beautiful, sturdy, luxurious packaging, suitable as a gift.
Origin: Made in Vietnam by Ladophar
Content: 01 package contains 100 bags x 2 grams net weight
EXP: 02 years from the manufacturing date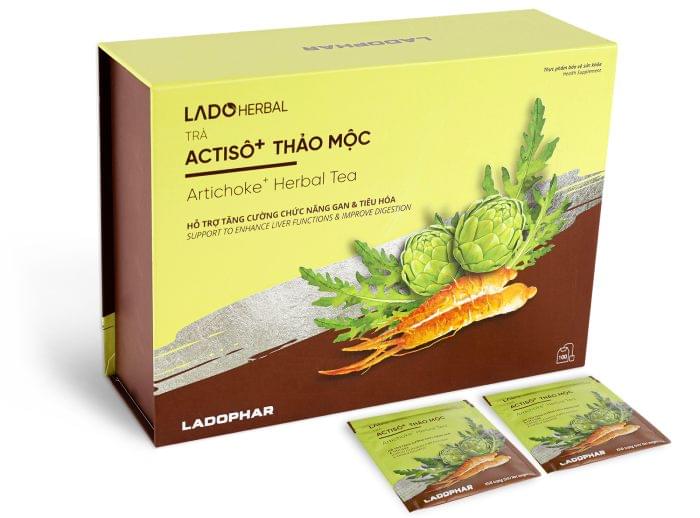 Ingredients and Usage Artichoke tea
Each filter bag of 2g contains – Artichoke, Senna obtusifolia, Codonopsis Pilosula, artichoke balm, and sweet grass.
Drink 2-3 times a day, 1-2 filter bags each time. Dip the filter bag in 150 – 200 ml of boiling water for 3 – 5 minutes. Can be used repeatedly by adding boiling water. Tastes better when served hot.
Other related information
Storage in a cool and dry place, avoid direct sunlight.
Shipping: Europe: 10-21 days
United States, Canada, America: 15-30 days
Asia, Australia, New Zealand: 12-25 days
Frequently bought together products