G7 Trung Nguyen Instant Black Coffee, 03 boxes, total 45 packs
G7 Trung Nguyen Instant Black Coffee is for those who prefer strong black coffee, or simply prefer to drink with their own cream and/or sugar to their coffee, condensed with milk is a very nice taste. Also, can be used with ice!
Black instant G7 does not contain any added calories from added creamer or sugar, it can be mixed directly into cold water for iced coffee, its packet size is very small and fits easily in a wallet, and, of course, many people just prefer black coffee.
Packaging: 03 boxes x 15 packs x 2 grams. Sold as a set
Origin: Made in Vietnam by Trung Nguyen Co., Ltd
EXP: new product, 01 year from manufacturing date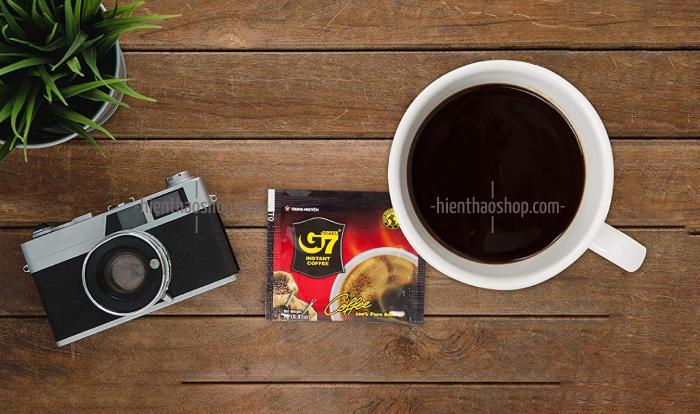 G7 Coffee other information
If you do like your coffee sweet but are watching your sugar intake, then the Black G7 is ideal because you can sweeten it with your non-nutritive sweetener of choice (Splenda, Nutrasweet, etc.). You can also add your own cream, milk, or non-dairy creamer if you like. This black instant is highly suitable for allergy sufferers because they can be certain that there is nothing in the packet but pure black instant coffee.
Brand: Trung Nguyen G7 Instant Coffee
Shipping: Europe: 10-25 days
United States, Canada, America: 15-30 days
Asia, Australia, New Zealand: 12-25 days
You may also like