Black Tea Dilmah Strawberry, 03 BOXES x 20 teabags / 30g
Black Tea Dilmah Strawberry contains 20 individually foil wrapped tea bags, 100 % Pure Ceylon black tea with Strawberry flavor, net 1.06oz/30g. An inviting, woody, and slightly tart strawberry flavor with the characteristics of a sweet taste that is both aromatic and pleasing.
Packaging: 03 boxes x 20 teabags, total 60 teabags
Expiration: new product, 02 years from manufacturing date

Product Origin: Made in Sri Lanka, Imported to Vietnam by Ha Thang Co., Ltd
Dilmah Tea is the number one brand of authentic, garden-fresh Single Origin Ceylon tea in over 102 countries. Single Origin 100% Pure Ceylon Dilmah is entirely grown, handpicked & packaged in Ceylon (now Sri Lanka), producer of the world's finest tea. Single Origin explains why Dilmah is fresher, richer & full of flavor. Discerning tea drinkers will recognize the distinct difference in the very first sip. Packed at Source, Garden Fresh Packaging in Sri Lanka, within days of picking fresh leaf in the tea fields, maximizes freshness, the key to antioxidants in tea.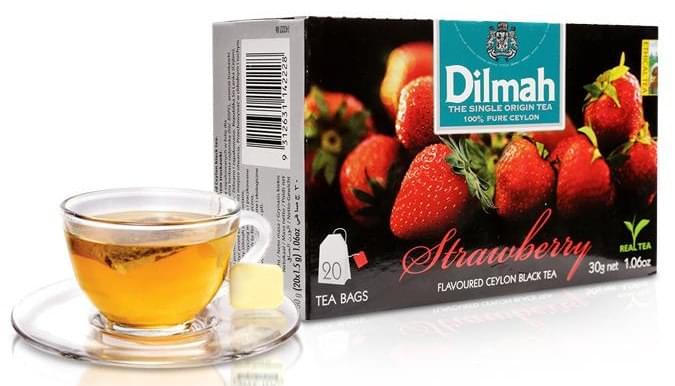 Black Tea Strawberry Dilmah Ingredients and Use
100 % Pure Ceylon black tea with Strawberry flavor, net 1.06oz/30g.
-Dip the tea bag in a glass of boiling water, wait for 3-5 minutes, and add sugar if needed. Takes 1-2 tea bags/ time.
Shipping: Europe: 10-21 days
United States, Canada, America: 15-30 days
Asia, Australia, New Zealand: 12-25 days
You might also like