Cobra Snake Venom Ointment Najatox 40g, Anti-inflammation
Cobra Snake Venom Ointment Najatox is a topical dermatological analgesic anti-inflammation that contains Cobra venom and Methyl salicylate, a very toxic substance of polypeptide or protein nature. Snake venom is a very potent anti-inflammatory agent, it can use to relieve pains.
It is a skin rubefacient that produces redness of the skin by causing dilation of the capillaries thus helping the skin penetration of the active ingredients and is a local analgesic that can be used in the temporary relief of minor aches and pains of muscle and joints associated with rheumatism, arthritis, fibrositis, back pain, myalgias, sprains.
Eucalyptus oil, Camphor, is a skin rubefacient that can be used as massaging oil to ease acute pains and aches, sprains, and rheumatic arthralgia.
Origin: Made in Vietnam by Mekophar Pharma
EXP: new product, 24 months from the date of manufacturing
Package: Tube of 40 grams Net Weight, Shipping weight 60 grams
Indication: Uses for the following conditions: arthralgia, neuralgia, and myalgia in rheumatoid polyarthritis, chronic, arthritis, gonarthritis, carpal arthritis, and shoulder sprain.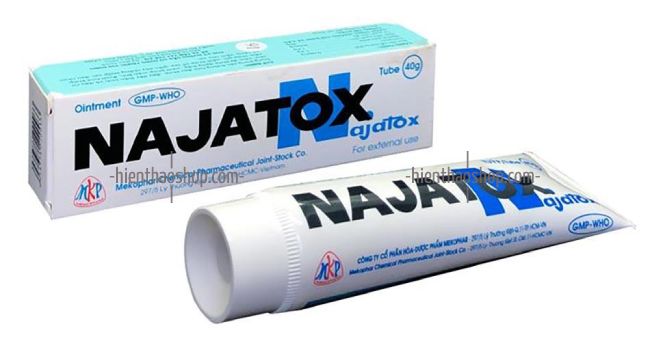 How to Use Najatox Cream?
Apply to the affected area and gently rub, usually 3 times daily. Duration should continue for 1-3 weeks.
Contraindication: Hypersensitivity to any ingredient of the medicine. Avoid contact with the eyes and mucous membranes, irritated areas, broken skin, and Pregnant women.
Warning: Only for inner pain. Do not apply to open wounds/cuts.
Storage: Store in a dry, cool place (below 30°C). Keep away from light. Keep out of reach of children.
Shipping: Europe: 10-21 days, Asia: 20-25 days
United States, Canada, America: 15-30 days
You may also like