Fallopia Multiflora Ha Thu O, Sugar Coated, Anti White Hair and Hair Loss 
Fallopia multiflora Ha Thu O is a species of Fallopia native to central and southern China and North West of Vietnam. It is also known by its synonym, Polygonum Multiflorum, and is predominantly referred to as such in PubMed.
It is used in traditional medicine, which regards it as having anti-aging properties, Hair Loss & Hair color Support
Origin: Made in Vietnam by Traphaco Pharma
Exp: new product, 24 months from the date of manufacturing
Package: Each box contains 05 blisters x 20 sugar-coated pills. Total of 100 pills
Indication: This product uses to invigorate the liver and kidney, replenish vital essence and blood, and diminish premature gray hair and bread.
Anaemia, dizziness, tinnitus, aching and limpness of the loins and knees, general debility in chronic malaria, hyperlipemia, and premature graying of the hair and beard.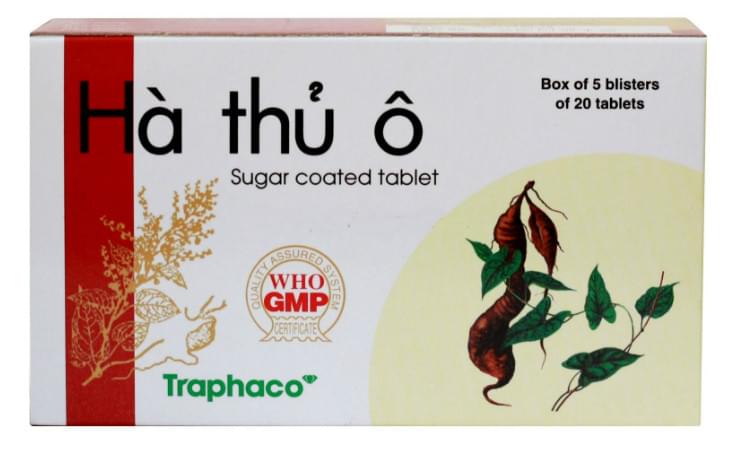 Ingredient: Extractum Fallopiae Multiflorae: 300 mg, Glucose, Calci Carbonate, Magnesu Stearat. Talc, Sugar, Povidon, Chocolate, Titan Dioxide
Fallopia Multiflora Ha Thu O Dosage and administration 
Please use 02-3 tablets per time, 02-03 times daily.
Contraindications: Hypersensitivity to any ingredients of this medicine, Constipation, Pregnancy
Other Side Effect: No other side effect was reported
Storage: In a cool and dry place
Shipping to Europe: 10-21 days
United States, Canada, America: 15-30 days
Asia, Australia, New Zealand: 12-25 days