Sell Vietnam Golden Star Balm Danapha 4 Grams Cao Sao Vang Vietnam
We sell Vietnam Golden Star Balm Danapha in 4 grams tins. This name in Vietnamese is Cao Sao Vang and it uses to treat and prevent colds and flu, headache, runny nose, dizziness, joint pain.
Made in Vietnam by Danapha Pharma
EXP: new product, 24 months from the date of manufacturing
Package: Each tin contains 4 grams net weight
Ingredient of 100g products
Menthol: 4.1 g
Camphor: 2.58 g
Peppermint Oil (Oleum Menthae): 12.5 g
Cajuput Oil (Oleum Cajuputi): 8.8 g
Ocimum Oil (Oleum Ocimi): 0.9 g
Indication: Headaches, dizziness, colds, runny nose, nausea, abdominal pain, mosquito, and other insect bites.
How to use Golden Star Balm Danapha 4 grams?
For external use only. Apply this medicated balm in the temples, nape area in cases of colds and flu, headache, runny nose, and dizziness. Use golden star balm to massage the pain sites or apply the balm in areas where insect bites.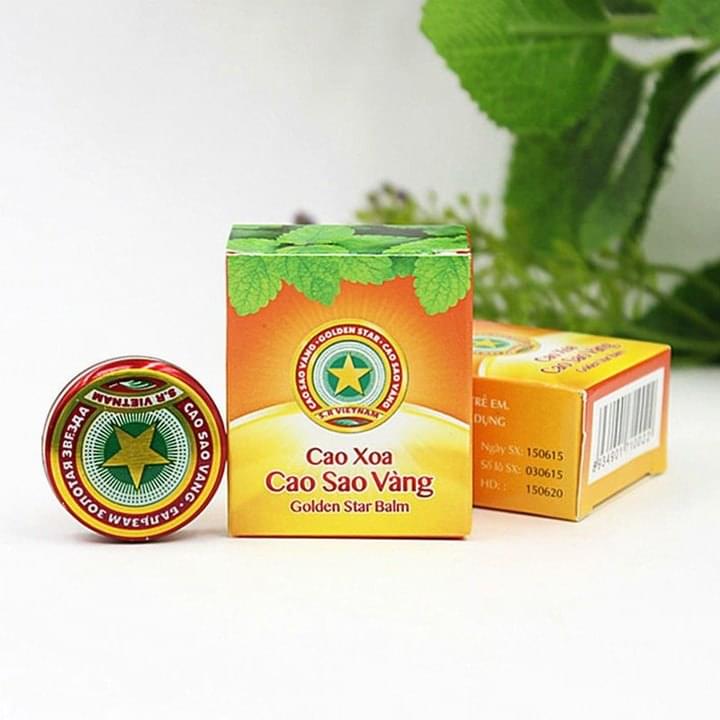 Other product information
This product is not a medicine, it is not a substitute for medicine. Do not use it for people who are sensitive to any of the ingredients in the product. Consult your doctor before using it for pregnant or breastfeeding women.
Store in a cool, dry place, away from direct sunlight.
Products may be subject to import tax depending on the laws of each country, we are not responsible for this tax
Shipping: Europe: 10-21 days
United States, Canada, America: 15-30 days
Asia, Australia, and New Zealand: 12-25 days
Frequently bought together