Amway Nutrilite Glucosamine Supports Joint Health 
Amway Nutrilite Glucosamine is the product used to support Joint Health and Joints Movement. It contains a natural extract of chondroitin sulfate from shark cartilage. The most important factor for joint regeneration.
Please Note: This product is made by Amway Vietnam, so there is only Vietnamese text on the product. We will send to you the translation letter along with the package. But please consider it before purchase. Thank you!
Origin: Made in Vietnam by Amway factory
Packaging: 01 box x 180 Tablets
Expiration: new product, 24 months from the date of manufacturing
Ingredient: Serata Boswellia, Citrus dehydrate, Lyophilized powder acerola, Hyaluronic acid.
Every 6 tablets provide 1,500 mg of glucosamine. Suitable for those who want to maintain the health of joints, especially the elderly, athletes, workers, osteoarthritis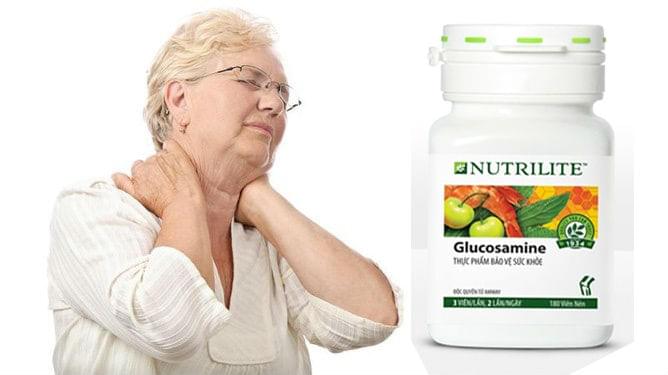 Warning: Pregnancy or lactating women, children under 12 years of age, or anyone with a medical condition should consult their physician before using this product.
How to use Amway Nutrilite Glucosamine?
Take 06 capsules daily, 3 capsules in the morning, and 3 capsules in the evening for people over 12 years old and above.
Other product information
This product is not a medicine, it is not a substitute for medicine. Do not use it for people who are sensitive to any of the ingredients in the product. Consult your doctor before using it for pregnant or breastfeeding women.
Store in a cool, dry place, away from direct sunlight.
Products may be subject to import tax depending on the laws of each country, we are not responsible for this tax
Shipping to Europe: 10-21 days
United States, Canada, America: 15-30 days
Asia, Australia, and New Zealand: 12-25 days
Frequently bought together