Artichoke Teabag Ngoc Thao 4 boxes free shipping
Artichoke Teabag Ngoc Thao with the ingredients are 100% from nature and carefully selected to make the taste more delicious. This artichoke tea bag is used to purify the body. It has a very good cooling effect on the liver and kidney function
According to scientists, artichoke tea has many health benefits because the artichoke tree contains many high antioxidant compounds such as Cynarin, and silymarin; minerals such as Manga, Phosphorus, iron, and vitamins: A, B1, B2, C.
Origin: Made in Vietnam by Ngoc Thao Co., Ltd
Expiry: new product, 24 months from the date of manufacturing
Packing: 04 boxes. Each box contains 20 teabag x 2 grams, sold as a set, and free shipping
How to use Artichoke tea?
The product is packed into filter bags so it is very convenient. You just put each artichoke tea bag into a glass of boiling water from 150ml to 200ml. After 10 minutes, you will have a delicious glass of artichoke tea to enjoy.
Every day you can use from 3 to 5 packs. The percentage of water can be more or less depending on your strong or light drinking preference.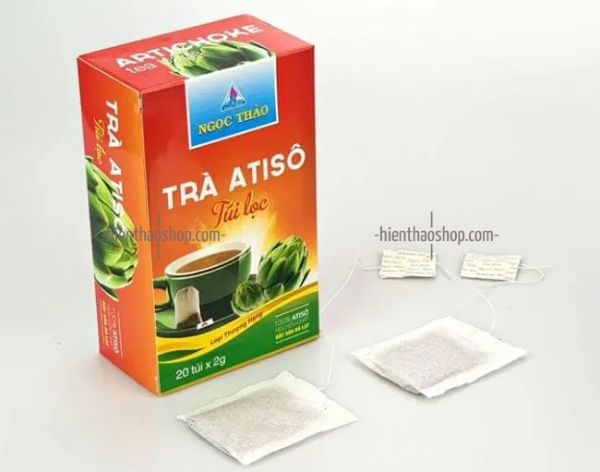 Typical benefits of Artichoke Tea
Ngoc Thao Artichoke Tea meets your drinking needs with the typical BENEFITS for HEALTH as follows:
Control the amount of cholesterol in the blood, reduce blood pressure, and control blood sugar. Detoxify the liver, and strengthen liver and kidney function. Helps skin smoother. Reduce stress, stress, and fatigue. Increases heart health and Improves digestion
Storage: Keep in a dry, cool place.
Shipping: Europe: 10-21 days
United States, Canada, America: 15-30 days
Asia, Australia, New Zealand: 12-25 days
Frequently bought together