Mega Giloba Brain Tonic Support Brain Circulation
Mega Giloba Brain Tonic is a product containing the Ginkgo Biloba Phytosome extract that increases brain circulation, nourishes and boosts the brain, and enhances memory. It is indicated in cases of cerebral insufficiency, sequelae of catastrophe cerebrovascular, and peripheral vascular disorders.
Origin: Made in Thailand by Mega We Care
EXP: new product, 02 years from the manufacturing date
Package: a box contains 30 soft gel capsules.
Ingredients: Each soft capsule contains Ginkgo Biloba Phytosome 115mg, equivalent to Ginkgo Biloba extract 40 mg.
Indication of Mega Giloba
It uses for brain circulation failure and functional manifestations: dizziness, headache, memory loss, decreased ability, cognitive, motor disorders, and emotional and personality disorders.
Sequelae of stroke and traumatic brain injury.
Peripheral vascular disorders: arterial limb disease, Raynaud's syndrome
Sensory neurological disorders, circulatory in the eyes, ears, nose, and throat.
Preventing and slowing down the progression of Alzheimer's disease (dementia in the elderly).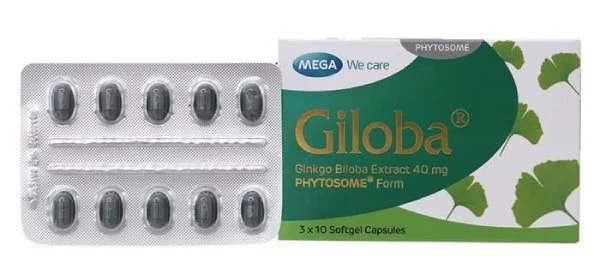 Other related information
Contraindications: Hypersensitivity to any components of the drug. Not recommended for pregnant women and children. If concomitant use of Ginkgo with anticoagulants or aspirin should notify the physician.
Side Effect: Clinical side effects of Ginkgo Biloba extract do not cause any significant side effects. A mild headache may occur within one or two days, slight discomfort in the stomach or a skin allergy in a small number of people.
However, if any of the above symptoms occur, consult a physician or pharmacist.
How to use: Adults and children over 12 years: each time takes 1 tablet, 3 times a day. Swallow the tablet during the meal, do not break, and do not chew.
Shipping: Europe: 10-21 days
United States, Canada, America: 15-30 days
Asia, Australia, New Zealand: 12-25 days
Frequently Bought Together