OXY 10 Maximum Strength Benzoyl Peroxide Anti-Acne 
OXY 10 Maximum Strength Benzoyl Peroxide contains 10% Benzoyl Peroxide, to reduce the more stubborn pimples and acne that do not respond to mild acne reduction
Origin: Made in Vietnam by Rohto Mentholatum

Packaging: 01 box x 10 grams Net, 33 grams shipping weight, recommend to 01, 03 boxes.
Exp: new product, 24 months from the date of manufacturing
This is how OXY 10 works to treat pimples:
Kills acne bacteria that cause pimples
Helps dry up excessive oil
Helps unblock pores
Easy to use. Vanishes upon application. Clinically tested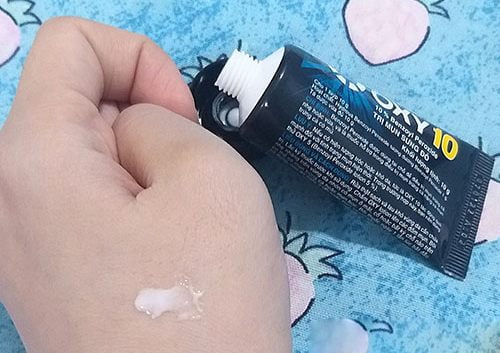 Note: If excessive skin drying and flaking occurs. OXY 10 may be too strong for your particular acne condition. If so, try OXY 5 (5% Benzoyl Peroxide)
Direction: Wash skin thoroughly and dry well. Shake well before using. Dab on OXY 10, smoothing it into oily acne pimple areas for the face and neck (see CAUTION). Apply once a day initially, then twice a day, or as directed by a physician.
Caution: Those with known sensitivity to Benzoyl Peroxide or especially sensitive skin should not use this medication. To test for sensitivity, apply to a small affected area once a day for two days. Follow label instructions and continue if no discomfort occurs. If during usage, irritation, redness, burning, itching or excessive drying or peeling occur, reduce dosage or frequency of use. Discontinue if irritation is severe and, if it persists, consult a doctor. Keep away from eyes, lips, and mouth. Keep this and all medicines out of reach of children.
OXY 10 Maximum Strength Benzoyl Peroxide FOR EXTERNAL USE ONLY.
Keep tightly closed. Store in a cool place. Do not use if the product expired
Shipping: Europe: 10-21 days
United States, Canada, America: 15-30 days
Asia, Australia, New Zealand: 12-25 days
Frequently bought together