Remos IB Mentholatum Cream Anti Insect and Mosquito 
Remos IB Mentholatum supports instant cooling, relieving your itch with maximum strength. REMOS IB is Anti-Itch Insect Bites Cream. It provides itch and pain relief for insect bites, rashes, or skin irritations. This product combines the following functions:
Package: 01 tube x 10 grams Net. Shipping weight 21 grams
EXP: new product, 02 years from a manufacturing date
Origin: Made in Vietnam by Rohto Mentholatum Co., LTD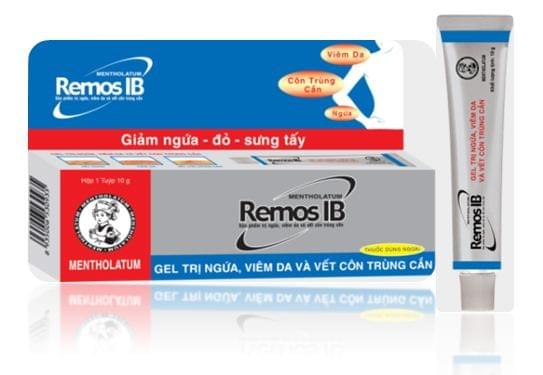 Composition: 15mg Prednisolone Valerate Acetate, 500mg Crotamiton, 20mg Allantoin, 350mg I-Menthol, 10mg Isopropyl Methylphenol.
Prednisolone Valerate Acetate: Anti-rashes.
Crotamiton and I-Menthol: Itch relief quickly.
Isopropyl Methylphenol:  Anti-bacteria formulation.
Allantoin: Stimulate cell development and skin restoration.
Dosage and how to use this product?
Gently apply Mentholatum REMOS IB Gel to affected areas, Up to 03 times daily.
WARNING: Read the instruction carefully before using them. Stop using if this product is not suitable for your skin
Shipping: Europe: 10-21 days
United States, Canada, America: 15-30 days
Asia, Australia, New Zealand: 12-25 days
You may also like