Virbac Megaderm Nutritional Gel contains Omega 3 and Omega 6
Virbac Megaderm Nutritional Gel is a delicious nutritional supplement that provides essential fatty acids (EFAs) from the naturally sourced Omega 3 and Omega 6 groups.
Megaderm is the only essential fatty acid product on the market with an ideal 5: 1 omega 6 to omega 3 ratio, guaranteed to be effective and long-lasting for your pet. Also, Megaderm contains a concentrated amount of fatty acids, providing up to 178mg EFA /kg/day.
Origin: Made in France by Virbac
Packaging: 01 box contains 28 sachets of 4ml
Expiry: new product, 24 months from the date of manufacturing
Virbac megaderm ingredients
Each 1 ml product contains
Vitamin E ……………………≥ 3,8 IU
Linoleic acid (LA) ……………≥ 254,8 mg
Gammalinolenic acid (GLA) ……..≥ 5,3 mg
Eicosapentaeonic acid (EPA)…….≥ 31,4 mg
Docosahexaeonic (DHA) …………≥ 21,0 mg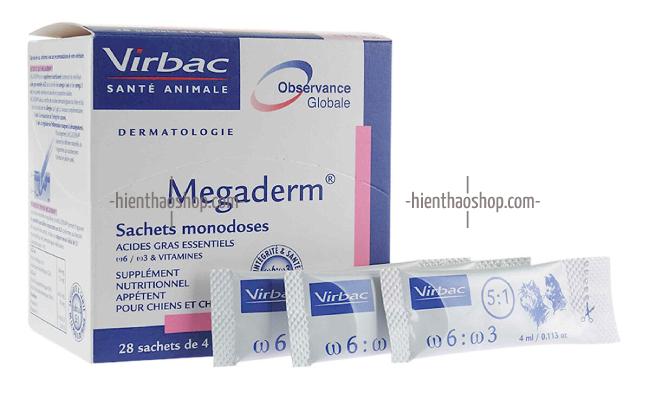 How to use Virbac Megaderm?
For dogs and cats by mouth: can be fed directly or mixed with food.
Dosage: 1 pack (4 ml) for 10 kg of body weight or less.
01 pack per day in case the skin has signs of disease, or every 2 days, 01 pack to maintain healthy skin and hair. Feed for 8 weeks.
Shipping: Europe: 10-21 days
United States, Canada, America: 15-30 days
Asia, Australia, New Zealand: 12-25 days
Frequently bought together