Sell Vuong Bao Benign Prostatic Hyperplasia
Vuong Bao Benign Prostatic with the combination of natural herbs with the main ingredient of Crinum Latifolium. It helps to prevent and limit the development of Benign Prostatic Hyperplasia, thereby helping to improve urination disorders: nocturia, urination many times
Benign prostatic hyperplasia, also called prostate enlargement, is a noncancerous increase in the size of the prostate gland. The symptoms may include frequent urination, trouble starting to urinate, a weak stream, inability to urinate, or loss of bladder control.
Origin: Made in Vietnam by IMC Pharma
EXP: new product, 02 years from the manufacturing date.
Package: the box contains 80 pills, free shipping worldwide.
Ingredients: Crinum Latifolium 310mg, Lygodium flexuosum 175mg, Crassocephalum crepidioides 125mg, Radix Bupleuri 100mg.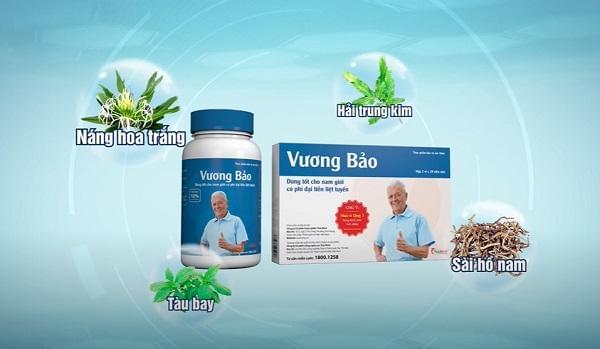 Target users:  Men have been diagnosed with benign prostatic hyperplasia, or used for postoperative support. Men in middle age and seniors, who have symptoms of urination disorders such as hard and painful urination, frequent urination, weak urine rays …
How To Use Vuong Bao
Prevention: Each time take 2 capsules, 02 times a day, 30 minutes before meals
Support to reduce the size of Benign prostatic hyperplasia: Each time take 3 capsules, 02 times a day, 30 minutes before meals
Storage: in a dry and cool place, avoid direct sunlight
Shipping: Europe: 10-21 days
United States, Canada, America: 15-30 days
Asia, Australia, New Zealand: 12-25 days
Frequently Bought Together