Acnacare Mega We Care 30 capsules, Supports Acne Treatment
Acnacare Mega We Care adds antioxidants, helps prevent, supports acne treatment, and anti-inflammatory for the sebaceous glands in the skin.
This product is produced under the formula APC Complex researched and developed by Mega Lifesciences Pharmaceutical Company (Australia). According to the results of clinical trials from the France Spin Control research institute showed that after only 8 weeks of use, the signs of oiliness, acne, bruising, and inflammation were significantly reduced and the overall efficiency reached 95.7%.
Origin: Made in Thailand by Mega We Care
Package: one box contains 30 capsules, please see the 

shipping

 instruction
Expiration: new product, 02 years from the manufacturing date.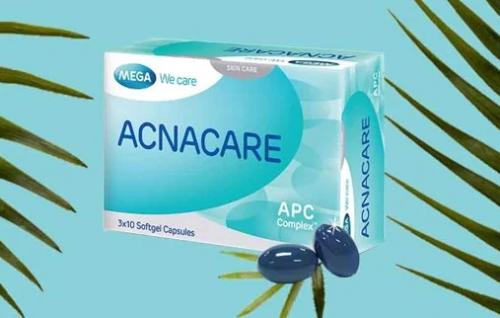 Ingredients of Acnacare oral acne pills
Zinc-Methionine Complex: 75 mg
Zinc Supply: 15 mg
Vitamin C: 60 mg
Extract D. Salina: 20 mg
Provides beta-carotene and other carotenoids: 6mg
Natural Vitamin E: 15 IU
Chromium picolinate: 1.04 mg
Chromium supply: 130 mcg
Other Ingredients: Soybean oil, saturated vegetable oil, white beeswax, aerosol 200, lecithin, gelatin, glycerin, purified water, titanium dioxide, brilliant blue, FD&C No. 40 red
Dosage and how to use
Adults and children over 12 years old: one tablet each time, 2-3 times a day with meals. Acne care is suitable for men and women over 12 years old.
Shipping: Europe: 10-21 days
United States, Canada, America: 15-30 days
Asia, Australia, New Zealand: 12-25 days
Frequently bought together