Angela gold women's ginseng, a box of 30 capsules
Angela gold women's ginseng contains the new formula supplemented with natural P.Leucotomos essence. It helps to enhance the activity of the "Brain – pituitary – Ovary" axis system, protecting and regenerating the skin's background structure.
This product also helps to improve skin glow. More specifically, the product enhances female physiology, improves symptoms: vaginal dryness, decreased libido, difficulty achieving pleasure.
Origin: Made in the USA by St Paul Brands
Package: Each box contains 30 capsules
Expiration: in late 2022 or later.
Target users: Women over 18 years old, premenopausal women.
The composition of one capsule
Lepidium Meyenii Ginseng: 100 mg. P. Leucotomos: 40 mg. Black Cohosh: 60 mg. Dong Quai Extract 5:1: 80 mg. Damiana Leaf Extract 5:1: 80 mg. Muira Puama Extract 6:1: 100 mg. Ginkgo Biloba Extract: 20 mg. PEPTAN F: 100 mg. St. John's Wort extract: 100 mg. Gelatin, Magnesium Stearate, Corn Starch…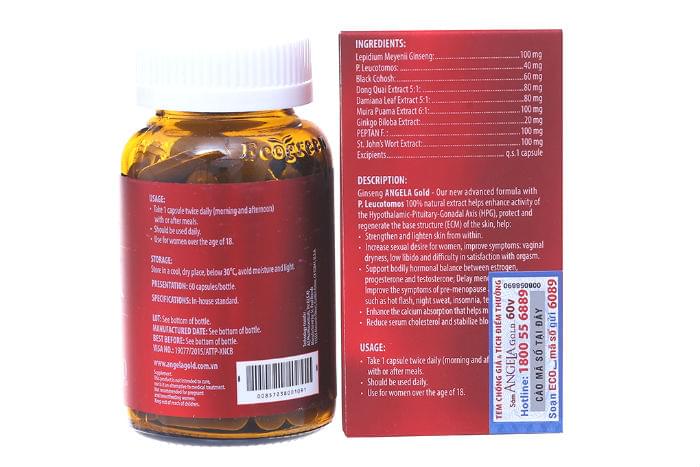 Other uses of the product
In addition, Angela Ginseng also establishes an endogenous balance beneficial for the trio of female hormones: estrogen, progesterone, and testosterone. It slows down menopause, anti-aging. Improvement of unpleasant perimenopause and menopause symptoms: hot flashes, night sweats, irritability, insomnia, depression.
It also supports calcium absorption into bones, helps bones strong. and Help reduce cholesterol and stabilize blood pressure.
Usage: Take 1 capsule x 2 times/day (morning, afternoon), drink during or after meals. Should be used regularly for maximum effectiveness and long term.
Storage: Store in a cool, dry place, below 30 degrees Celsius, away from moisture and sunlight, keep out of reach of children.
Shipping: Europe: 10-21 days
United States, Canada, America: 15-30 days
Asia, Australia, New Zealand: 12-25 days
Frequently Bought Together