D-na Whitening Supplement for people with skin aging
D-na Whitening Supplement has the effect of adding antioxidants to help protect the skin, help moisturize the skin, slow down the aging process, support skin beauty, and help skin bright and smooth.
Origin: Made in Vietnam by MEDISTAR Vietnam, distributed by Rohto Mentholatum
EXP: new product, 24 months from the date of manufacturing
Package: Box of 60 tablets, free shipping worldwide. Please refer to the shipping instruction
Each hard capsule contains:
L- Glutathione: 195mg
Vitamin E: 40mg
L-Cystine: 30mg
Hyaluronic acid: 10mg
Vitamin C: 5mg
Ingredients: Starch, polyvinyl pyrrolidone, talc, magnesium stearate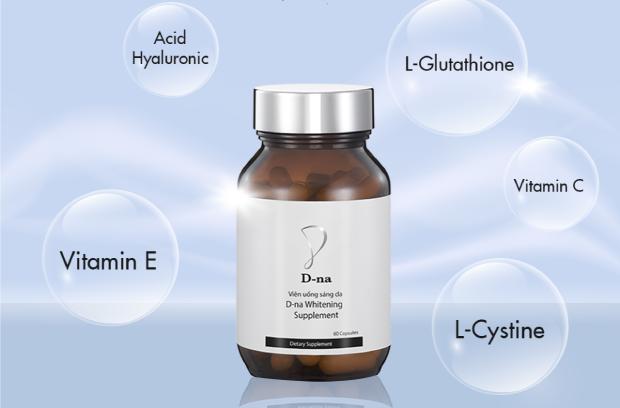 How to use D-na products?
Take 2 capsules each time, 1-2 times daily after meals. Frequently uses for the best result
This food is not a medicine, it does not replace medicine. Please do not use if hypersensitivity to any ingredient of this product. Should use sunscreen products during the day to get the best results
Shipping: Europe: 10-21 days
United States, Canada, America: 15-30 days
Asia, Australia, New Zealand: 12-25 days
Frequently Bought Together