Korean 
Homtamin 
Ginseng 60 Soft Capsules Multi-Vitamins
Korean Homtamin Ginseng provides vitamins and minerals in the following cases: Weak physicality, anorexia, malnutrition, fatigue, emaciation, stress, growing children and frail older people.
It is also a tonic and reduces fatigue in cases of physical decline while being sick or in the recovery period.
Origin: Made in Vietnam by Korea United Pharm
EXP: new product, 02 years from the manufacturing date.
Package: the box contains 60 soft capsules
Composition of each Korean Homtamin Ginseng soft capsule
Ginseng Ext. (1n-house-specification) ……… 40 mg
Aloe Ext. (BP 2008) ……………………………… 5 mg
Retinol acetate (USP 30) ……………………… 5000 I.U.
Ergocalciferol (USP 30) ………………………… 400 I.U.
Tocopherol acetate (USP 30) ………………… 45 mg
Thiamine nitrate (USP 30) …………………… 2 mg
Riboflavin (USP 30) …………………………… 2 mg
Pyridoxine HCI (USP 30) ……………………… 2 mg
Ascorbic acid (USP 30) ………………………… 60 mg
Nicotinamide (USP 30) ………………………… 20 mg
Calcium pantothenate (USP 30) …………… 15.3 mg
Cyanocobalamin (USP 30) …………………… 6 µg
Ferrous fumarate (USP 30) …………………… 54.76 mg
Copper sulfate (USP 30) ……………………… 7.86 mg
Magnesium oxide (USP 30) ………………… 66.34mg
Zinc oxide (USP 30) …………………………… 5 mg
Dibasic calcium phosphate (USP 30) ……… 307.5 mg
Manganese sulfate (USP 30) ………………… 3 mg
Potassium sulfate (KP VIII) …………………… 18 mg
Excipients: Lecithin. Palm oil, White Beeswax, Soybean oil, Gelatin, Concentrated glycerin, Para-hydroxy methyl benzoate, Para-hydroxy, propyl benzoate. Ethyl vanillin, Titanium oxide, Blue No. 1 (Brilliant Blue FCF), Yellow No. 5 (Sunset Yellow FCF), Red No. 40 (Allura red), Purified Water.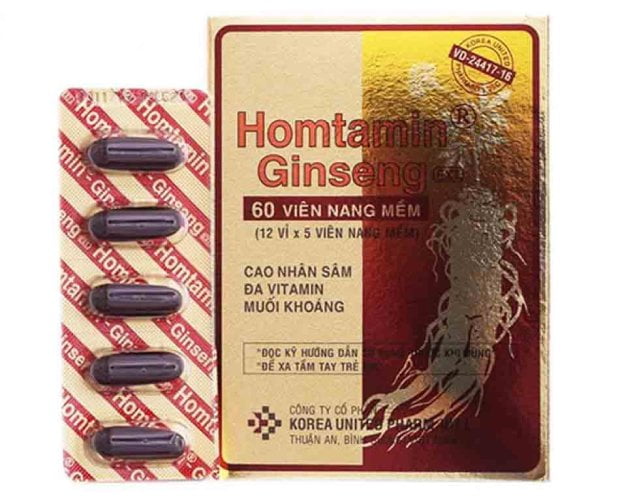 DOSAGE & ADMINISTRATION: The usual adult dosage is one soft capsule once daily.
WARNING: Use more than 5,000 I.U./ day of Vitamin A (Retinol) in pregnant women may cause teratogenesis, therefore Vitamin A administration should not be exceeded 5,000 I.U./ day in women of the first trimester of pregnancy or women of childbearing potential who might become pregnant (Except the patients with Vitamin A deficiency).
Caution in patients with hypersensitive to any component of the drug.
IN FOLLOWING CASES, CONSULT YOUR DOCTOR OR PHARMACIST BEFORE TAKING HOMTAMIN-GINSENG
Infants under 4 years of age.
Patients undergoing therapy.
Pregnant women.
ADVERSE REACTIONS:
In cases of vomiting, nausea, diarrhea, pruritus due to taking Homtamin-Ginseng Ext., the administration should be discontinued and consult your doctor or pharmacist.
Administration of Homtamin-Ginseng Ext. may cause hypermenorrhea and emmeniopathy. If bleeding is continued, consult your doctor or pharmacist.
Inform your doctor in case of any adverse reactions related to drug use.
PRECAUTIONS:
Keep the prescribed dosage and administration.
In young children, administer under a protector's guidance.
Because Vitamin A is sufficiently supplied with a regular meal, it should not be administered more than 5,000 I.U. as Vitamin A daily dose.
Other Related Information of Korean Homtamin Ginseng
If you think that the drug is having too little effect in one month, you should discuss the matter with your doctor or pharmacist.
Keep out of reach of children.
Store at cool places, protected from a direct ray of light.
Do not preserve in another container in order to maintain the quality of the drug and avoid misusing it.
USE IN PREGNANCY:
In some countries, it has been reported that human fetal teratogenicity, including cranial neural crest. was suspected because of maternal ingestion of large dosages of Vitamin A (more than l0,000 I.U./ day) during and before the first trimester of pregnancy.
Therefore, use in women who are in the first trimester of pregnancy or who want to become pregnant should be avoided except use for the treatment of Vitamin A deficiency. The use of this drug for the supplement of Vitamin A should be considered of the intake by foods and also Vitamin A administration by this drug should be limited to 5,000 I.U./ day.
Shipping: Europe: 10-21 days
United States, Canada, America: 15-30 days
Asia, Australia, New Zealand: 12-25 days
Frequently bought together
Boganic Traphaco Hepatobiliary Tonic, Liver Function Support