Nat B Mega We Care For Nervous System
Nat B Mega We Care provides high levels of B vitamins. This is an essential vitamin group to maintain the health of the nervous system. With well-researched and clinically tested formula helps to improve and soothe stress due to work pressure.
Vitamin B is also known as a vitamin that plays a very important role in metabolism. This group of vitamins is beneficial in cases of increased body needs such as stress, alcoholism, surgery, and illness.
Nat B contains high levels of Vitamin B to relieve Vitamin B deficiency symptoms and supports the maintenance of health when the demand for B vitamins increases, such as in the case of stress, alcoholism, surgery, and illness.
Origin: Made in Thailand by Mega Wecare
EXP: new product, 02 years from the manufacturing date
Package: a box contains 30 soft gel capsules.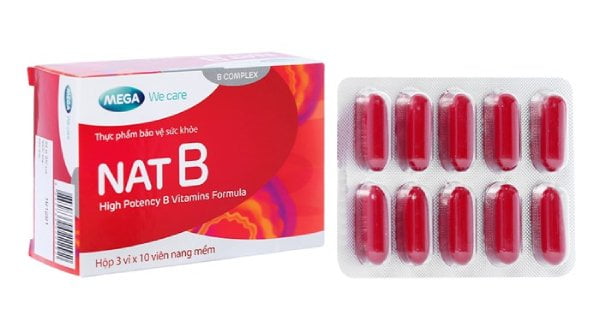 How to use and Composition of Nat B?
Adults take 1 tablet daily, taken with meals or as directed by a physician.
Vitamin B1 (thiamine mononitrate)…… 50 mg
Vitamin B2 (riboflavin)……………. 50 mg
Vitamin B6 (Pyridoxine hydrochloride).. 50 mg
Vitamin B12 (cyanocobalamin)………. 50 mcg
Nicotinamide……………………… 50 mg
Folic acid……………………… 100 mcg
Choline bitartrate………………… 50 mg
Biotin …………………………. 50 mcg
Inositol ………………………… 50 mg
Storage: Store below 30oC, cool, dry place, and avoid direct sunlight.
Shipping: Europe: 10-21 days
United States, Canada, America: 15-30 days
Asia, Australia, and New Zealand: 12-25 days
Frequently Bought Together