Ritana skin whitening Ecogreen reduces dark melanin on the skin
Ritana skin whitening Ecogreen is a skincare product. It contains L-GLUTATHIONE, Sakura, pomegranate, and collagen extract. Especially, L-Glutathione is a powerful antioxidant that dramatically improves color and increases skin resistance. It eliminates skin toxins (metals, chemicals), and prevent aging by neutralizing free radicals.
The product is used to support natural pinkish white skin, helping to fade dark spots due to scarring. Sunscreen support from within the skin, helping skin tight, firm, and smooth.
Origin: Made in the USA by St Paul Brands
Package: Each box contains 60 capsules
Expiration: new product, 02 years from manufacturing date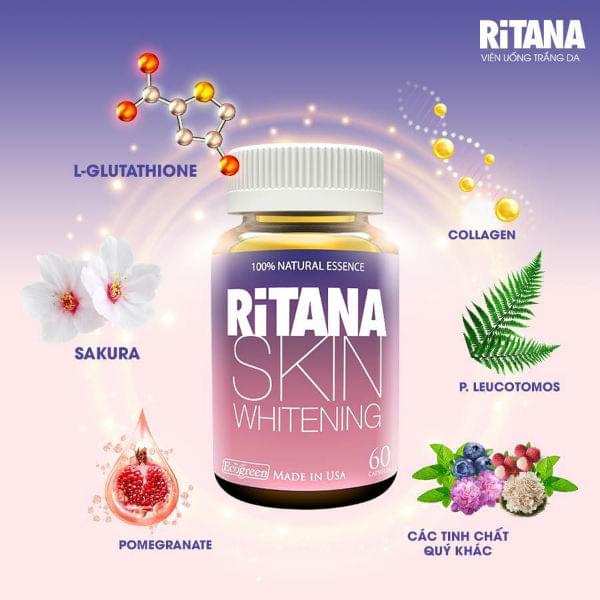 The composition of Ritana capsule
White Peony Extract: 100 mg, Marine Collagen Peptide 20 mg, Sakura Extract 12 mg, L-Glutathione 60 mg, Pomegranate Extract 70 mg. Uva Ursi Extract 100 mg. Lemon Powder 85 mg. Mulberry Leaf Extract 84 mg, Maca Root extract 50 mg, Snow Mushroom Powder 50 mg, Litchi Fruit Extract 50 mg. Lingonberry Extract 40 mg, Grape Seed Extract 40 mg. P.Leucotomos Extract 25 mg. Sky Fruit Extract 25 mg. Gelatin, Microcrystalline cellulose & Magnesium Stearate…
Usage: Drink 2 times a day (morning, afternoon), 1 tablet each time.
Should be used regularly to get the skin as you like
Target user: Men, and women over 18 years old
Shipping: Europe: 10-21 days
United States, Canada, America: 15-30 days
Asia, Australia, New Zealand: 12-25 days
Frequently Bought Together