Sac Ngoc Khang Plus (++) helps beautify skin
Sac Ngoc Khang Plus is a special product for women aged over 28-30. A recent survey indicated around 15% of women aged 28-30 started with a slight pigmentation phenomenon. 40% of women over age 30 at a worse level of discoloration. Ngoc Khang plus is a great solution for these issues.
Product Origin: Made in Vietnam by Hoa Thien Phu
EXP: new product, 02 years from manufacturing date
Package: 01 bottle x 60 capsules.
Sac Ngoc Khang ++ is the development of the product Sac Ngoc Khang with 3 additional rare components. They are astaxanthin, sheep placenta and Ganoderma (Reishi mushroom) from Australia and Japan. Sac Ngoc Khang ++ means one plus for beauty, and one plus for elegance.
Ingredients:
Astaxanthin……………………………………………………………10 mg
Sheep placenta……………………………………………………1500 mg
Ganoderma…………………………………………………………..10 mg
Soybean sprouts extracts……………………………………….200 mg
L-cystin………………………………………………………………..300 mg
Angelicae Sinensis (roots)………………………………………110 mg
Achyranthes Bidentata Blume………………………………….110 mg
Rehmannia glutinosa……………………………………………..110 mg
Herba leonuri………………………………………………………..110 mg
Momordica Cochinchinensis oil……………………………….40 mg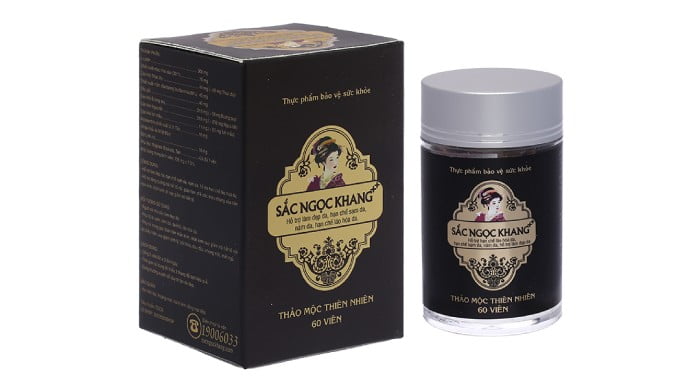 Sac Ngoc Khang Plus anti Pigmentation benefit
Astaxanthin is classified as one of the most powerful antioxidants of natural origin. Thanks to the strong antioxidant, oral use of oral astaxanthin helps antioxidant and anti-aging 550 times more powerful than vitamin E, 6000 times than vitamin C.
It reduces wrinkles and increases moisture and elasticity in the skin. It also prevents the harmful effects of ultraviolet rays by locking free radicals on the skin generated by UV light. In addition, Astaxanthin helps protect the retina from macular degeneration due to aging, restrains therefrom decline due to age, improves circulation, and reduces blood pressure.
Sheep placenta extracts (1500mg)
Sheep placenta contains many vitamins, protein rare, and growth hormone which helps cell regeneration and tissue, increase elasticity and texture of the skin, and helps remove hyperpigmentation, and freckles, from that beauty and skin rejuvenation. In addition, sheep's placenta also enhances blood red-corpuscle regeneration and provides the body with energy and nutrients.
The reishi mushroom (Ganoderma Lucidum) (10 mg)
Reishi contains about 119 types of mineral micronutrients with the main effect of nourishing the body, enhance the elimination of free radicals and toxins, helping regulate blood pressure, reducing stress, and improving health.
Soybean sprouts essences support the prevention of premenopausal symptoms: estrogen supplements help relieve symptoms such as hot flashes, hot face, insomnia, dry and physiological decline. In addition. It also works to lower cholesterol and prevent heart problems and osteoporosis.
Other information of Sac Ngoc Khang ++
Prevents and improves skin pigmentation, dull skin, freckles, dry skin and dry hair.
Improves skin elasticity, protects skin from ultraviolet rays, enhances collagen synthesis for your skin firm and bright.
Helps with additional blood, blood work, regulating menstruation, and strengthening female physiology.
Shipping: Europe: 10-21 days
United States, Canada, America: 15-30 days
Asia, Australia, New Zealand: 12-25 days
You may like other products