Salonpas Jikabari thermal patch – warming the pain area
Salonpas Jikabari thermal patch is a medical patch. It generates heat by reacting iron with oxygen in the air and the catalyst is salt to help warm the body, improve circulation, stimulate digestion, relieve symptoms of muscle fatigue, muscle stiffness, muscle pain and discomfort during menstruation, neuralgia,
Origin: Made in Vietnam by Hisamitsu Japan
Content: 01 carton box contains 8 patches
Patch size: 8,4 cm x 13,0 cm
EXP: 02 years from the manufacturing date
How to use Salonpas Jikabari patches?
Remove the film on the back and stick the patch on the place that needs to be warmed once a day for no more than 6 hours. Especially, please be careful with low-temperature burns.
Do not use it during bedtime. Do not stick it in a place that has great pressure such as a belt loop. Do not use it while keeping warm with a blanket.
Discontinue use immediately if feeling excessively hot or abnormal. Remove the patch slowly from the skin to avoid peeling during low-temperature burns.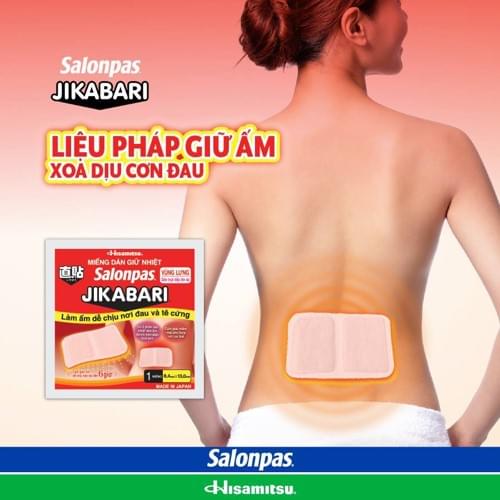 Please do not use these thermal patches if you have
A feverish inflammation in areas of discomfort such as bruises or sprains. Impaired blood circulation in the hands or feet. Please do not use on the face, mucous membranes, wounds, rashes, and damaged skin, or the areas where topical medication has been applied.
Other related information
Storage in a cool and dry place, avoid direct sunlight.
Shipping: Europe: 10-21 days
United States, Canada, America: 15-30 days
Asia, Australia, New Zealand: 12-25 days
Frequently bought together products