Salonpas Pain Relief Patch Hisamitsu box 5 pieces
Salonpas Pain Relief Patch contains Methyl salicylate and L-Menthol to help relieve pain and inflammation in pain associated with shoulder pain, muscle pain, joint pain, bruises, sprains, strains, and arthritis.
This product is a famous Japanese over-the-counter pain reliever brand owned by Hisamitsu Pharmaceutical Co., Ltd. It was launched in the Japanese market in 1934. So far it has been present in more than 30 countries such as Indonesia, Vietnam, Philippines, and Taiwan,…In 2008, Salonpas was approved by the Food and Drug Administration (FDA).
Origin: Made in Vietnam by Hisamitsu
Content: 01 box has 5 patches. Patch size: 7cm x 10 cm
EXP: new product, 02 years from manufacturing date
How to use Salonpas Pain Relief Patch products?
Adults and children over 12 years old: Wash, and dry the painful area, remove the plaster from the film and stick it on the painful area, not more than 4 pieces/day. Do not use the patch for more than 5 consecutive days on the same area of the skin. Remove the paste from the skin after 12 hours of use.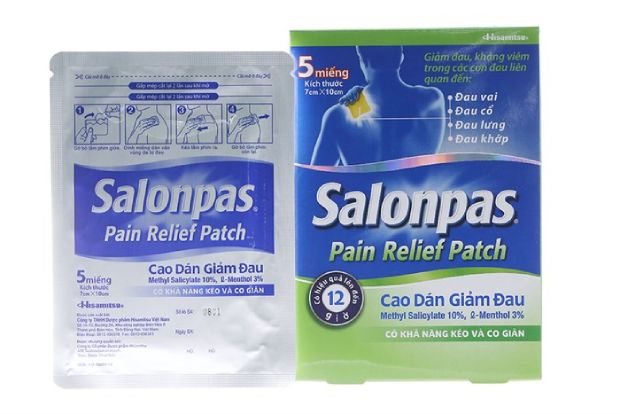 Contraindications of this product
Do not use it on broken skin or open wounds. On the eyes or the skin around the eyes. If you have a history of allergy to one of the ingredients.
Please do not use hot tape. Do not use it at the same time as other topical pain relievers. Do not use it if you are too sensitive to topical pain relievers.
Other related information
For external use only. Do not use it for purposes other than instructions. Pregnant or lactating women: consult a doctor before use. Keep out of reach of CHILDREN.
Storage in a cool and dry place, avoid direct sunlight.

Shipping t

o Europe: 10-21 days
United States, Canada, America: 15-30 days
Asia, Australia, and New Zealand: 12-25 days
Frequently bought together products