Bonidetox Lung Detoxification makes your lungs healthier
Bonidetox Lung Detoxification helps to detoxify the lungs caused by air pollution. This product expels phlegm, coughs, and reduces breathing difficulty in patients with chronic bronchitis, pneumonia, asthma, and chronic obstructive pulmonary (COPD).
It protects and cleans your lungs, making breathing easier. It also strengthens immunity, anti-oxidant, and increases the antimicrobial ability of the lungs which helps to restore damaged cells of the lung.
Origin: Made in the USA by J&E International
Expiry: new product, 24 months from the date of manufacturing
Packing: Each box contains 30 capsules
Composition: Ty Ba Diep Extract 100 mg
Western Chrysanthemum Root Extract 75 mg
Olive Leaf Extract 25%
Fucoidan 50 mg
Xuyen Tam Lien Root E50 mg
Hoang Cam 50 mg
Dandelion Root 50 mg
Eucalyptus Leaf 50 mg
Italian Licorice Extract 50 mg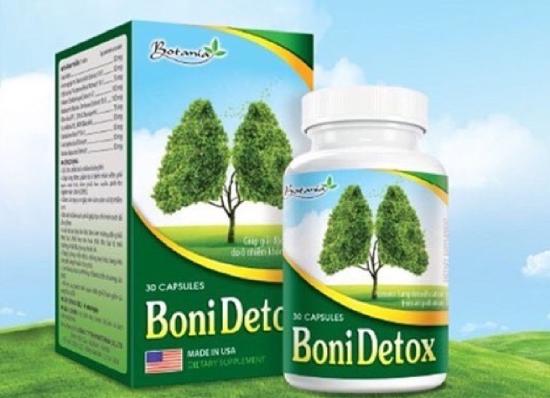 How to use Bonidetox Lung Detoxification 30 Capsules?
Take 2 capsules per time and use 2 times per day. Use it after a meal. Should be used continuously for 1-3 months for best results.
Note: The product is not a medicine and is not a substitute for medicine. Protect in a dry and cool place, avoid direct sunlight
Shipping: Europe: 10-21 days
United States, Canada, America: 15-30 days
Asia, Australia, New Zealand: 12-25 days
Frequently Bought Together