Buy online Acnes Medical Cream, Kill bacteria that cause acne
Buy online Acnes Medical Cream from Vietnam. This product has aggressive treatment by killing acne-causing bacteria. It destroys the scab on the top of pimples and gets rid of acne and dirt easily. Also, it reduces swelling, and redness caused by acne. Especially, Acnes Medical Cream increases Vitamin E content, promotes skin regeneration.
Origin: Made in Vietnam by Rohto Mentholatum
EXP: new product, 02 years from the manufacturing date
Package: 18 grams net weight, free shipping worldwide
Composition: Sulfur, Resorcin, Tocopherol Acetate, Glycyrrhetinic Acid. Self-emulsifying Glyceryl Monostearate, Isopropyl Myristate, 1,3 – Butylene Glycol, Anhydrous Ethanol, Microcrystalline Cellulose – Carmellose Sodium, Bentonite, Aluminium Hydroxide, Sodium Bisulfite, Dimethylpolysiloxane, hương liệu, Propylparaben, Methylparaben, Disodium EDTA, water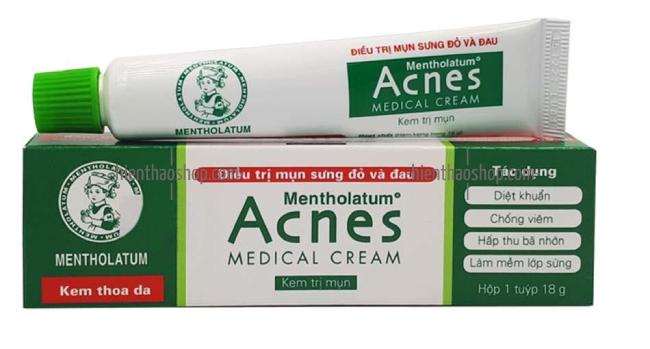 Features of the main ingredients
Sulfur: Softens horny skin, kills bacteria, and reduces acne
Resorcin: Kills bacteria that cause acne
Glycyrrhetinate Acid: Reduces inflammation and redness
Tocopherol Acetate: Promotes skin regeneration
How to use this Acne cream?
Wash your face clearly, apply a sufficient amount of cream, and gently rub it on the affected area. Use it several times a day.
Caution: This product is for external use only. Do not use it for open wounds. Stop use if irritation occurs. Avoid contact with eyes. Keep out of reach of CHILDREN. Keep in dry places
Shipping: Europe: 10-21 days
United States, Canada, America: 15-30 days
Asia, Australia, New Zealand: 12-25 days
Frequently Bought Together