Jiaogulan Giao Co Lam Tue Linh 100 film-coated tablets
Jiaogulan Giao Co Lam Tue Linh is a herbal remedy that use to reduce blood fats (triglycerides and cholesterol), prevent cardiovascular complications, Lower blood pressure, Prevent heart problems
Also, Jiaogulan extract can use to lower blood sugar, increases insulin secretion mechanism, and can increase the sensitivity of target tissues to insulin. It also helps to increase blood flow to the brain. Reduces fatigue caused by stress. Strengthens the body's immune system.
Package: box of 100 film-coated tablets
EXP: new product, 24 months from the date of manufacturing

Origin: Made in Vietnam by Tue Linh pharma
Jiaogulan Giao Co Lam other information
Jiaogulan, the scientific name is Gynostemma pentaphyllum (Thunb) Makino Cucurbitaceae. Jiaogulan another name is Sedum, miracle herb, Southern Ginseng. The Japanese call Jiaogulan as Amachazuzu. This valuable herb was already mentioned in 1639 in the book "Agriculture notes". Since ancient times, kings used Jiaogulan to enhance health, increase longevity, and maintain beauty.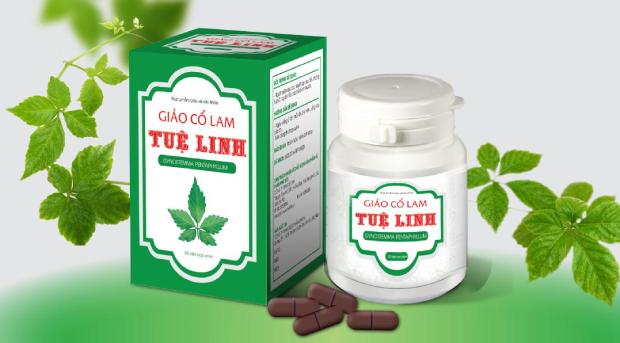 Ingredient: Each tablet contains Gynostemma pentaphyllum extract: 500mg, CaCO3, Avicel 101, Talc powder, Magie stearate, Natri lauryl sulfate, HPMC, PEG, TiO2, chocolate color.
How to use Jiaogulan Giao Co Lam?
To support the relief of high blood pressure, and blood cholesterol,  To enhance health, and prevent anti-aging: take 2 tablets each time, 2 times daily after meals.
Contraindication: Hypersensitivity to any ingredients of this medicine.
Shipping: Europe: 10-21 days
United States, Canada, America: 15-30 days
Asia, Australia, New Zealand: 12-25 days
You may also like