Sam To Nu Puecolazen buy online from Vietnam
Sam To Nu Puecolazen buy online from Hien Thao Shop. This product is made by Phuong Dong Pharmaceutical company and distributed by Kohinoor Star Group according to the license number: 4277/2019/ĐKSP
Sam To Nu is completely extracted from nature. The main ingredient is soybean germ extract containing 40% Isoflavones. Isoflavones have been shown to function similarly to the endogenous hormone estrogen. Therefore, this ingredient can assist with hormonal balance, relieving premenopausal and menopausal symptoms. At the same time, maintains physiological function, improves skin, and enhances women's health.
Origin: Made in Vietnam by Phuong Dong Pharma
EXP: new product, 24 months from the date of manufacturing
Package: Box of 3 bottles x 15 tablets, free shipping worldwide. Please refer to the shipping instruction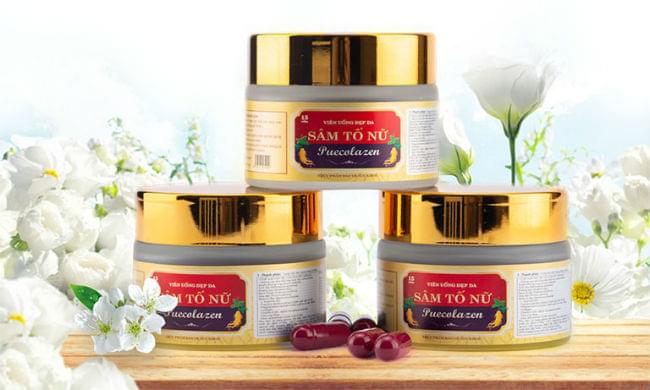 Ingredients of Sam To Nu
Isoflavone, Vitamin E, Sâm tố nữ (Pueraria Mirifica), Ligusticum wallichii 80mg, Pregnenolone acetate 25mg, Rehmannia Glutinosa 75mg, Collagen 20mg, Angelica spp 60mg, Vitamin E 25mg, Paeonia Lactiflora 50mg, Prunus Persica 50mg
Indication: This product helps strengthen and lighten skin from within. Increases sexual desire for women and improves symptoms: vaginal dryness, low libido, and difficulty in satisfaction with orgasm. It supports a bodily hormonal balance between estrogen, progesterone, and testosterone; Delay menopause and aging; Improves the symptoms of pre-menopause and menopause such as hot flashes, night sweats, insomnia, tension, and depression. It also enhances calcium absorption which helps maintain healthy bones. Reduce serum cholesterol and stabilize blood pressure.
How to use this product?
02 capsules twice daily in the morning and in the afternoon with or after meals. Use for women over the age of 18.
Shipping: Europe: 10-21 days
United States, Canada, America: 15-30 days
Asia, Australia, New Zealand: 12-25 days
Frequently Bought Together