Blossomy Collagen Rohto Skin 10 Bottles x 50ML
Blossomy Collagen Rohto is a health protection drink, combining natural Curcumin from turmeric with Collagen and Lactium, Vitamin B1, Vitamin B6, and Honey. This product helps brighten skin, smooth, youthful, and heal stomach ulcers.
Origin: Made in Vietnam by Rohto Mentholatum,
Distributed by Hien Thao Shop
EXP: in late 2021 or later
Package: 10 bottles x 50ml, free shipping worldwide.
Ingredients in 50 ML: Curcuminoid: 150 mg, Lactium: 100 mg, Collagen: 50 mg, Vitamin B1: 1.2 mg, Vitamin B6: 1.5 mg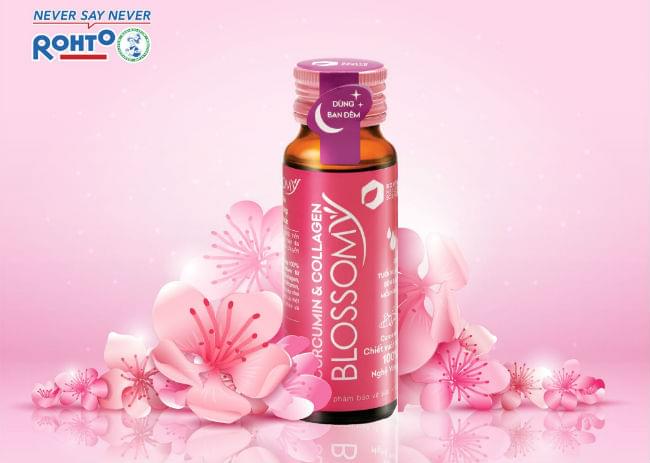 Benefits of Blossomy skin beautiful drink
The Curcumin ingredient aids in reducing stomach and digestive problems.
Lactium helps in relieving stress and anxiety, helping to bring you deep and restful sleep.
Collagen helps skin tighten, firmer, brighter.
Maintains moisture, stimulates metabolism and creates elasticity, and helps skin smooth radiant.
Limit skin aging, increase elasticity, reduce wrinkles, dark spots, and freckles.
Dosage and Administration: Drink 01 bottles per day. Shake well before drinking. Drink before bedtime for best results. Can drink directly or add water depending on preference. More delicious when a cold drink
Shipping: Europe: 10-21 days
United States, Canada, America: 15-30 days
Asia, Australia, New Zealand: 12-25 days
Frequently Bought Together