Thien Thao Medicated Balm Pain Relief, Dizziness, Itchiness 
Thien Thao Medicated Balm is effective in relieving symptoms of dizziness, colds, insect bites, itching, muscle aches, sprains, and flatulence.
Origin: Made in Vietnam by Thien Thao Truong Son
EXP: 2022 or later
Packing: box of 10 grams or 30 grams. Please select the sizes from the variation
Composition: Menthol, menthol, camphor, eucalyptus oil, methyl salicylate, cinnamon oil, clove oil, basil oil.
Application: – 03 – 04 times daily to the affected area and rub. Apply the balm always thinly and, at least 5 minutes, lightly massage. The skin does not rub too hard. Avoid accidental contact with mucous membranes, eyes, and open skin.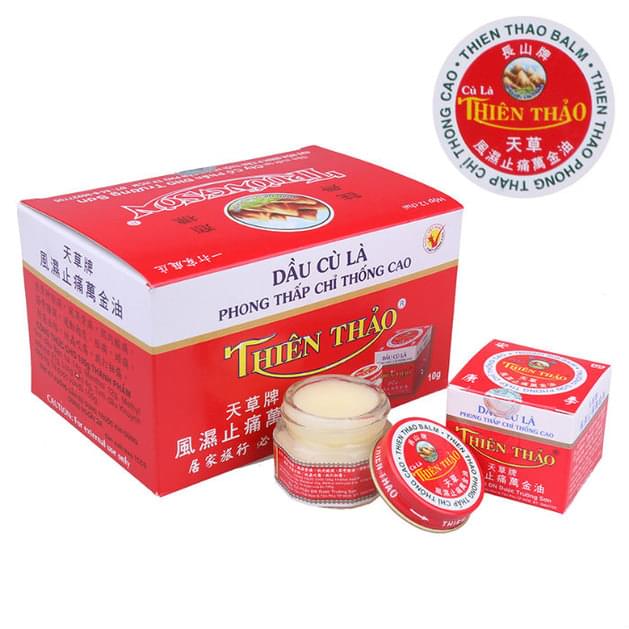 Warning: Do not use for children under 5 years. Pregnant or lactating women should use

Thien Thao Balm

with caution. Avoid contact with eyes, mucous membranes, and broken skin. For some people with sensitive skin, allergic reactions can occur. If severe irritation occurs, immediately stop use and consult, where appropriate, a physician. Eyes and mucous membranes should be protected before the Balm.
Storage: Store in a cool, dry place. Avoid direct sunlight.
Shipping: Europe: 10-25 days
United States, Canada, America: 15-30 days
Asia, Australia, New Zealand: 12-25 days
You may like