Hada Labo Perfect White Supreme Lotion, the preeminent moisturizing system
Hada Labo Perfect White Supreme Lotion is a comprehensive whitening solution. It dims dark spots, reduces brown spots, and deeply moisturizes your skin every day.
After 1 day of using the product, you will feel your skin moist and clear. From 6 to 8 weeks, the skin begins to glow and become more even. After 8 weeks the dark spots and brown spots will fade.
Origin: Made in Vietnam by Rohto Mentholatum
EXP: new product, 02 years from manufacturing date
Package: Bottle of 100 ml net weight, free shipping worldwide.
Main ingredients: Tranexamic Acid, Platinum complex (Platinum, pure vitamin E, vitamin C), a comprehensive moisturizing system of 5 types of HA (HA, Super HA, Nano HA, Binding HA, 3D HA)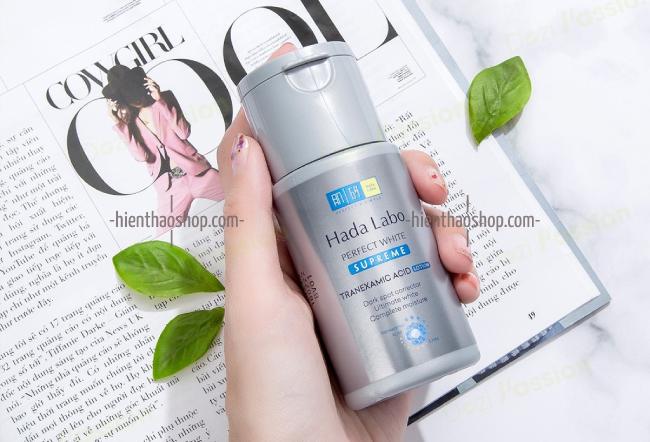 How to use Hada Labo Perfect White?
Step 1: Clean your face with makeup remover/cleansing steps.
Step 2: Put 2-3 drops of the solution on the palm of your hand. Gently press your hands together. Pat face: cheeks, forehead, and chin and rub well
Shipping: Europe: 10-21 days
United States, Canada, America: 15-30 days
Asia, Australia, New Zealand: 12-25 days
Frequently bought together