High dose dandruff shampoo Selsun contains Selenium Sulfide 1.8%
High dose dandruff shampoo Selsun with Selenium Sulfide 1.8%. This is the main ingredient that helps reduce the formation of dandruff.
The scalp produces a lot of sebum, which is the environment for the overgrowth of Malassezia bacteria, which is the cause of increased cell keratinization, thereby making the scalp easy to peel, causing dandruff, itchy scalp, and seborrheic dermatitis.
Selenium Sulfide 1.8% is a high-dose form that is effective against the proliferation of scalp epidermal cells and hair follicle epithelium, thereby reducing the production of keratinocytes. This ingredient is very effective against certain types of skin fungus including Malassezia (also known as Pityrosporum Ovale), which causes dandruff. Therefore, Selenium Sulfide is used in shampoo preparations or topical for sebum secretion and anti-fungal effects
Origin: Made in Vietnam by Rohto Mentholatum
EXP: new product, 02 years from manufacturing date
Package: 100 ml, free shipping worldwide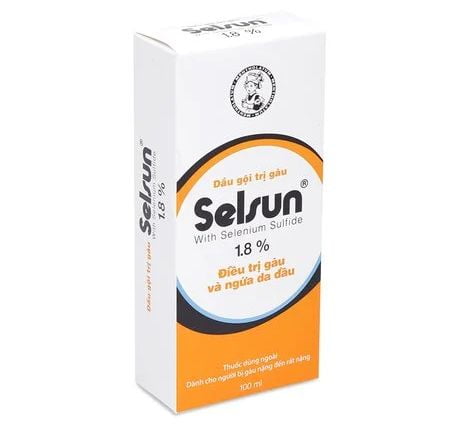 Indication and how to use it?
Indication: Used to treat and prevent dandruff, scalp pruritus, and seborrheic dermatitis caused by Malassezia yeast infection.
Contraindications: Patients are allergic to any ingredient of the drug. Do not use in case of acute inflammation or exudation. Not intended for use by pregnant women and children under 5 years old.
How to use: Shake well before using.
– Apply 5-10ml of medicine to the scalp when wet, leave 2-3 minutes for the shampoo to contact the scalp, gently rub, rinse with water.
– Use 2 times/week for 2 weeks. Then use 1 time/week or 1 time/ 2 weeks
In the process of using Selsun 1.8% dandruff shampoo, users should note a few things such as:
– Avoid direct contact with the eyes. If the shampoo does not get into the eyes, rinse thoroughly with clean water.
– Read the directions carefully before use to see if you are sensitive to any ingredients in the shampoo.
Shipping: Europe: 10-21 days
United States, Canada, America: 15-30 days
Asia, Australia, New Zealand: 12-25 days
Frequently bought together