Shan Tuyet Suoi Giang Hmong Green Tea 250 grams
Vietnam Nothern famous green tea is known as the Shan Tuyet Suoi Giang Hmong Green Tea which is cultivated by local Hmong hill tribes. They manually pick young leaves from old wild tea trees and take to a local factory to be produced by traditional methods. The ancient wild tea tree forest near Suoi Giang is the ancestral domain of the Hmong ethnic group and is thought to contain some 85,000 tea trees estimated between 800-1800 years old spread over 190Ha. Locally this region is known as the Gateway to heaven
Origin: Made in Vietnam by Suoi Giang Tea Co., Ltd
Package: 250 grams net weight
EXP: new product/ 02 years from the manufacturing date
Information about Suoi Giang
Suoi Giang rests in the northern mountains of Yen Bai Province in Vietnam. This area also has an impressive forest that holds many old (and presumably wild) tea trees.
The natural environment in Suoi Giang is so perfect for the tea trees that the people who manage and watch the tea trees in this forest need to do nothing more than add natural manure to maintain the trees. No irrigation and no shading is required. Yet, the clean and natural green teas that are produced using these old tea trees is still relatively unknown to Western tea drinkers. The reason is a shortage of workers to pick the leaves, and certainly not the quality of the teas themselves.
The dry leaves have a light to dark faded green color. The pluck is two leaves and a very small bud. The leaves consist of large fragments and presumably many whole leaves with the stem intact. The leaves appear to be larger in size than most more common green teas. There are also a few bare stems of considerable size and thickness, like a matchstick. The leaves are rolled, and many are curled. The leaves are very dry and crack easily and cleanly. The aroma has scents of light grass, light brown sugar, light earth, and very light dried fruit.
Three grams of dry leaves were placed in a porcelain tea infusion cup. Purified water was heated to 185°F (80°C). The leaves were infused for 3:00 minutes.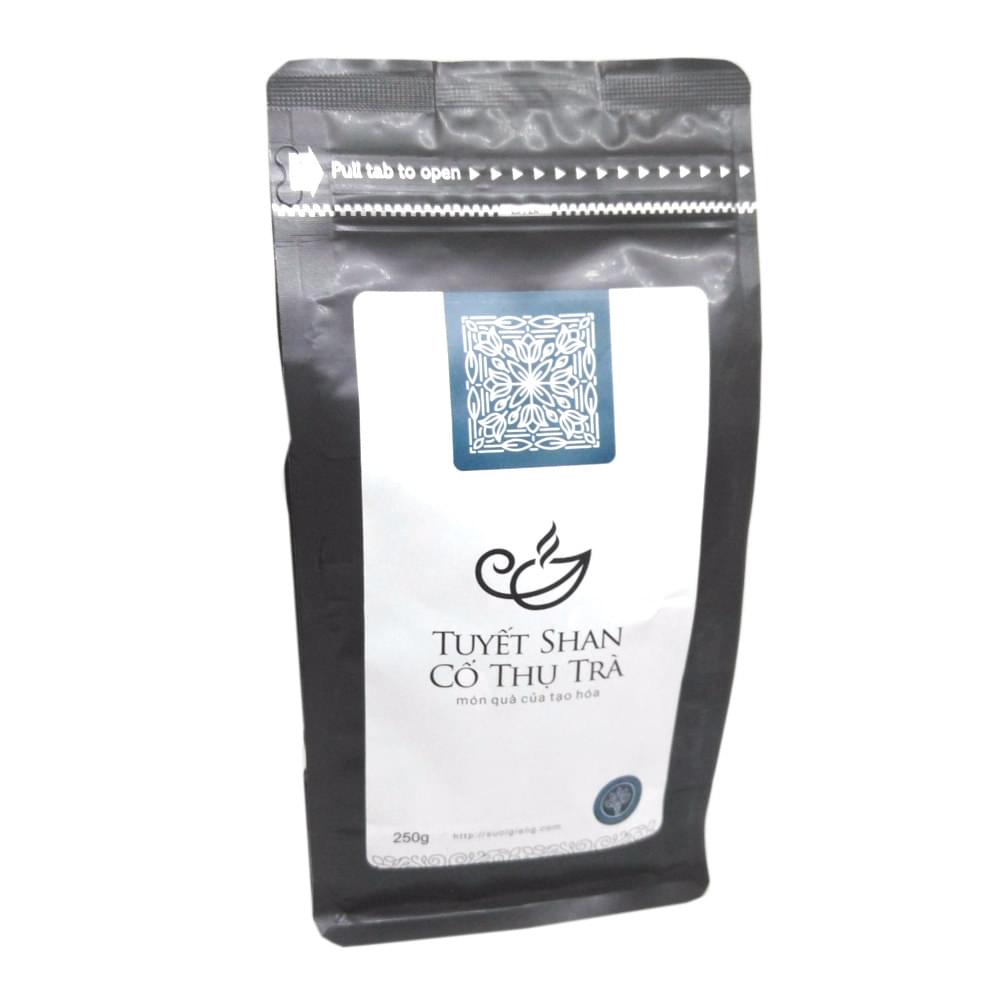 How to use Shan Tuyet Suoi Giang Hmong Green Tea?
For homebrewing, we could use three grams of dry leaves for every 6 to 8 ounces (180 to 240 ml) of water to be used. Heat water to 175°F (75°C). Steep the leaves for 1:30 minutes.
The first infusion produced a liquor with a golden-yellow color with a slight greenish tint, clear and transparent. The aroma had scents of grass, minerals (earth), light dried fruit, and light wet wood. The body was medium, with a round texture. The taste had notes of minerals (wet stone), grass, light marine, light wood, and very light flowers. The aftertaste is a combination of grass and mineral, and a flowery essence is left on the breath.
Shipping: Europe: 10-21 days
United States, Canada, America: 15-30 days
Asia, Australia, New Zealand: 12-25 days