Tam Chau jasmine tea 02 bags x 200 grams
Tam Chau jasmine tea is a harmonious combination of green tea and jasmine flowers. Green tea leaves contain many minerals and antioxidants. Meanwhile, the natural scent of jasmine helps to calm emotions, which will help the body cope with stress and many other ailments.
This product is sold as a set to optimize the shipping cost. The product's net weight is 200 grams per bag. The total package contains two bags x 200 grams, equivalent to 400 grams net weight.
Origin: Made in Vietnam by Tam Chau Co., Ltd
Packing: Net weight 200 grams / bag x 2 or 400 grams.
EXP: 02 years from the manufacture date.
Note: Product color and packaging may vary slightly with each new arrival
The feature of Tam Chau jasmine tea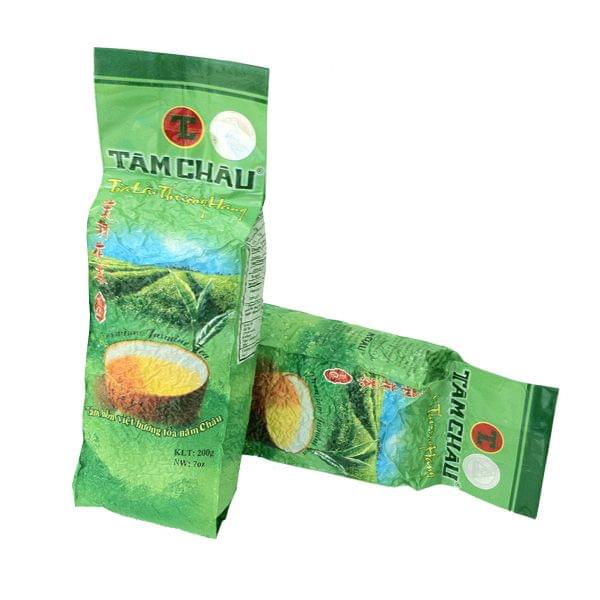 The raw materials of this tea product are selected from fertile soil, sufficient nutrients, and are properly fertilized. The selection criteria are standard fresh tea buds (1 bud, 2-3 young leaves). About 20kg of fresh tea buds produces 1kg of dried tea.
100% fresh herb and jasmine flavorings is a natural flowers. Tea after marinating needs time to brew to stabilize the flavor, so that the jasmine flavor penetrates deeply into the tea and reaches the purest.
Jasmine tea must have the characteristic green shape of steamed tea, slightly turning yellow-gray, the tea color is not bright, with jasmine petals. The shape of the tea is not uneven in color and size, with yellow watercolor, acrid taste, strong bitterness, sweet aftertaste, and characteristic aroma of jasmine
Storage in a cool and dry place, avoid direct sunlight.
Shipping: Europe: 10-21 days
United States, Canada, America: 15-30 days
Asia, Australia, New Zealand: 12-25 days
Frequently bought together products