Agera Extra Kingphar Tablets, stop worrying about sinusitis, allergic rhinitis
Agera Extra Kingphar Tablets are formulated with familiar natural herbs to help clear heat and reduce symptoms of allergic rhinitis, acute and chronic sinusitis, sneezing, runny nose, sore throat, and prolonged cough.
Sinusitis, allergic rhinitis is a common disease in many countries around the world. The disease often causes many unpleasant symptoms such as a runny nose, stuffy nose, headache … making the body tired, and affecting work and life.
Origin: Made in Vietnam by Kingphar Co., Ltd
Expiry: new product, 24 months from the date of manufacturing
Packing: Each bottle contains 50 tablets
It quickly recovers from the disease, it is necessary to have therapy to eliminate bacteria sticking in the sinus artery wall, in parallel with the healing of the inflammation, and regeneration of the sinus mucosa.
Agera Extra oral tablet is really a good solution for cases of allergic rhinitis, and chronic sinusitis often recurring long term.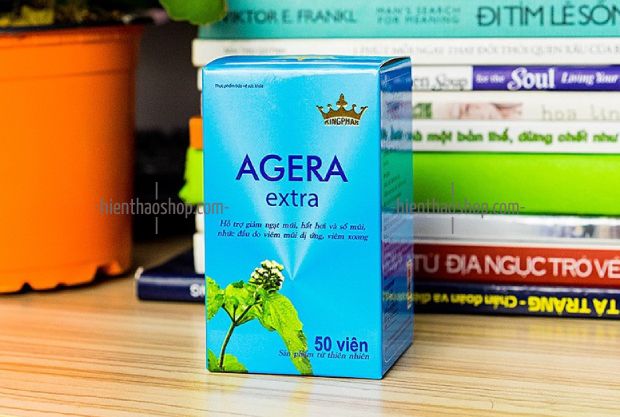 Ingredients of Agera Extra
Ageratum Conyzoides extract 100mg, Xanthium strumarium L 100mg, Asteraceae 80mg, Angelica anomala Lallem 80mg, Lonicera periclymenum 60mg, Magnolia liliiflora Desr 60mg, Ligusticum striatum 50mg, Astragalus membranaceus 50mg…
Dosage and Administration: Adults: 2 times per day, 2 capsules. Children over 6 years old: Take 1 capsule per day.
Storage: Keep in a dry, cool place.
Shipping: Europe: 10-21 days
United States, Canada, America: 15-30 days
Asia, Australia, New Zealand: 12-25 days
Frequently bought together